Garry Starr: Greece Lightning

Lauren Eisinger Productions and DWS Productions
Underbelly, Cowgate
–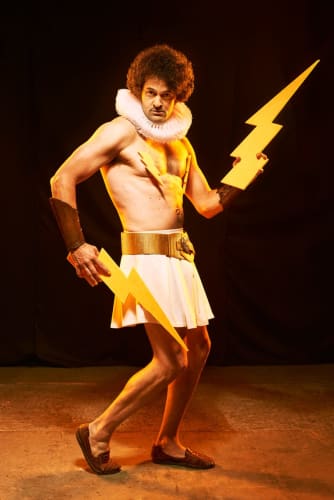 Garry Starr is here to tell us all about "the ergonomic situation in Greek!" with a gorgon's eye to building enthusiasm for tourism. Cue an hour of dancing, fighting, singing and throwing himself around the stage, fleeting through the Greek Pantheon, as well as touching on Homeric myth, all of which is done with a whack of audience interaction.
It's an adrenaline rush of absolute irreverence, while Starr seeds toys and props throughout the audience, only to draw them in at relevant points to hysterical effect. It's never unkind, or making fun at the expense of those selected either. And as the show goes on, it's almost impossible not to get pulled into the boundless sense of glee.
It's not every day that you see a grown man in a crown and a jockstrap pelvic thrusting at the audience. But this is the Fringe, and such things are not only the norm, but should be welcome in the spirit of utter chaos, or indeed Kaos.
If you're expecting anything close to serious, you're also in the wrong place; instead, expect to be breathless with laughter, perhaps questioning your own sanity while also blessing your good luck at choosing to catch this performance.
Reviewer: Graeme Strachan