Gaslight
Patrick Hamilton
Ambassador Theatre Group and Smith and Brant Theatricals in association with Tulchin Bartner Productions and Moya Productions
New Victoria Theatre, Woking
–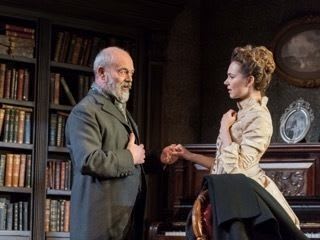 Although Hamilton's play was written in 1938, it was following the style of Victorian melodramas and here it is set in 1871. Nowadays the play would more likely be described as a psychological thriller, but the real tragedy is that the events which unfold could be just as plausible today.
In the Manningham household, husband Jack is a tyrannical bully, disguising his attitude as "caring" for his wife Bella while treating her as a naughty child. "You have been very good lately" he says, so as a treat, they will have an evening at the theatre. Her delight and happiness in anticipation of an enjoyable evening together is soon cut short with his accusation of some misdeed which she can't remember and he makes a point of belittling her in front of the servants calling her "a perfect little silly".
All the time, he is creating incidents of which she has no recollection, undermining any confidence she may have had and inferring that she is losing her mind. The fact that her mother died in a lunatic asylum is referred to frequently and the action is all played out in David Woodhead's claustrophobic set of a cluttered Victorian drawing room with the only people she ever sees being the two servants. The complete helplessness of her situation, and the tyranny of the one in control, is truly frightening and tension mounts wondering how ever she is going to survive and keep what remains of her sanity.
Hearing strange sounds when alone in the house, combined with the mysteriously fluctuating gas lights, she begins to believe she really is going mad and is very reluctant to receive the visitor whom maid Elizabeth insists she must see. The greeting "You're the lady who's going off her head?" gets right down to basics as Rough (Keith Allen) arrives to sort things out—or does he have reasons of his own for helping?
Anthony Banks directs this tightly constructed play with panache and seemingly with a mischievous sense of humour, at one point leading us to to expect a shocking confrontation as Jack and Nancy the maid are entwined before deflecting the moment. He keeps the play nicely balanced, increasing tension and apprehension before a sudden sensational shock of sound and light make the audience jump, and here and there a little comedy is thrown in for good measure.
Kara Tointon is excellent as an acquiescent, downtrodden Bella accepting her subservient place in the household as decreed by her husband. Understandable, as Rupert Young plays the manipulative tyrant Jack as such a terrifying bully, who would not be afraid of his temper?
There is strong support from Charlotte Blackledge as the flighty, flirty, cheeky maid Nancy and from Helen Anderson as the serious, caring housekeeper Elizabeth, while Keith Allen as Rough happily and expertly brings a more lighthearted character to life in his quest for justice.
Towards the end, I did think it had all come to a rather feeble and obvious conclusion, but I thought too soon. The lady has her moment of triumph.
A very frighteningly enjoyable evening for a cold, frosty and foggy night.
Reviewer: Sheila Connor