Gaslight
Patrick Hamilton
Nottingham Theatre Royal
(2007)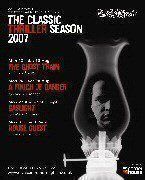 It's been a popular choice for amateur companies for a number of years but now they're having to look elsewhere as the professionals have got hold of Gaslight.
First there was the revival at the Old Vic starring Rosamund Pike and Kenneth Cranham. Now Colin McIntyre includes it in The Classic Thriller Season at the Theatre Royal in Nottingham.
It's the 18th consecutive year that McIntyre's company has made its summer base in the East Midlands and theatregoers know what to expect: Theatre Royal managing director James Ashworth describes the season as "like a comfortable pair of old slippers; old friends returning to perform a good yarn in a period setting."
On occasions the actors have been known to be on stage with their tongues firmly implanted in their cheeks. But with Gaslight director Adrian Lloyd-James gets them to play it fairly straight so that the terror, tension and torment are allowed to seep into the production like blood oozing through a bandage.
Considering that the five-strong cast had only a week to rehearse Gaslight while performing a different play in the four-week season, they do an excellent job.
Designer Geoff Gilder presents us with a dingy house in Victorian London, the drab, dark wallpaper adding to the sense of foreboding as the tangled tale of Jack and Bella Manningham gets under way.
Here's the plot in a nutshell: Manningham has almost succeeded in driving his wife insane - but the unexpected arrival of former police detective Rough leads to the prospect of Manningham's murky past and his reason for buying their current home being uncovered.
Jeremy Lloyd Thomas gives a marvellous interpretation of Manningham, portraying him as a psychopath - a predator who charms, intimidates and manipulates those around him as well as using violence to satisfy his selfish needs.
He starts off being kind and considerate but it's not long before he humiliates his wife with psychological tricks so that various items in the house mysteriously disappear. It's hardly surprising that she thinks she's going mad.
Karen Henson goes through a whole range of emotions as Mrs Manningham, from being nervous and afraid of her husband to becoming hysterical when she is at her lowest ebb. She loses a little of the decorum expected of a Victorian lady on occasions although this hardly detracts from her performance.
John Hester presents an authoritative, aristocratic figure as Rough, still intent on solving a 20-year-old murder and releasing Mrs Manningham from the clutches of her evil husband. But did the playwright give the detective that name because he envisaged him as having a few unrefined edges? Difficult to say - but Hester's evaluation of the character in no way minimises the enjoyment of the piece.
There are accomplished cameo roles from Jo Castleton as the flirty, impudent maid Nancy; and Maggie Staples as the housekeeper Elizabeth whose loyalties are torn between the master and mistress of the house.
The script of Gaslight is twee in some places and predictable in others. Patrick Hamilton doesn't introduce enough suspense to make it a true classic. But in the right hands it's an engrossing drama and Colin McIntyre's company do it justice.
The Classic Thriller Season continues until September 8th
Reviewer: Steve Orme