Gatecrash
Toby Ealden
Zest Theatre
Cast, Doncaster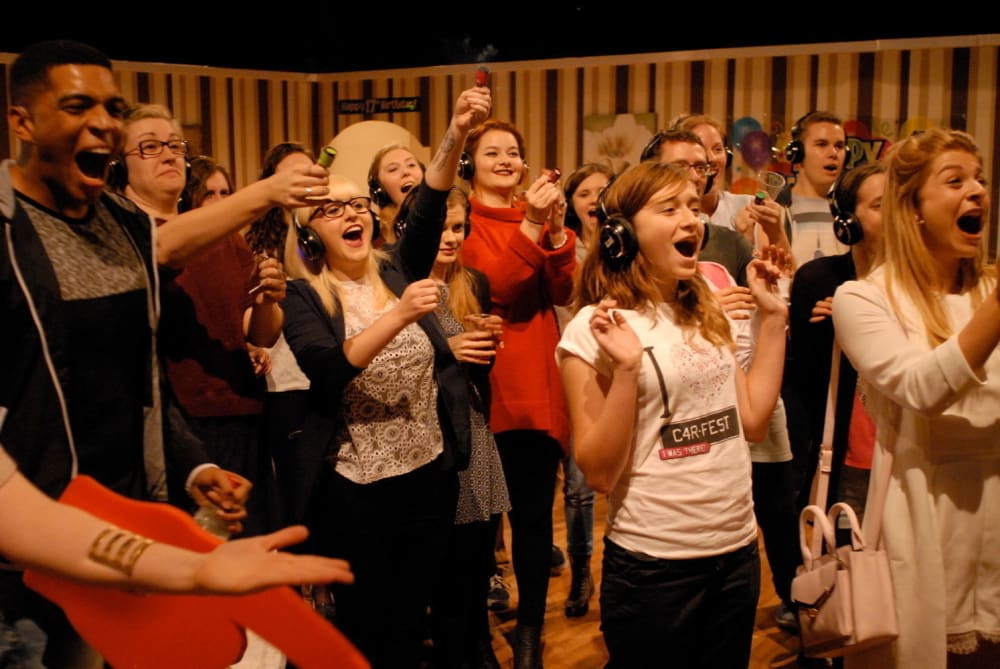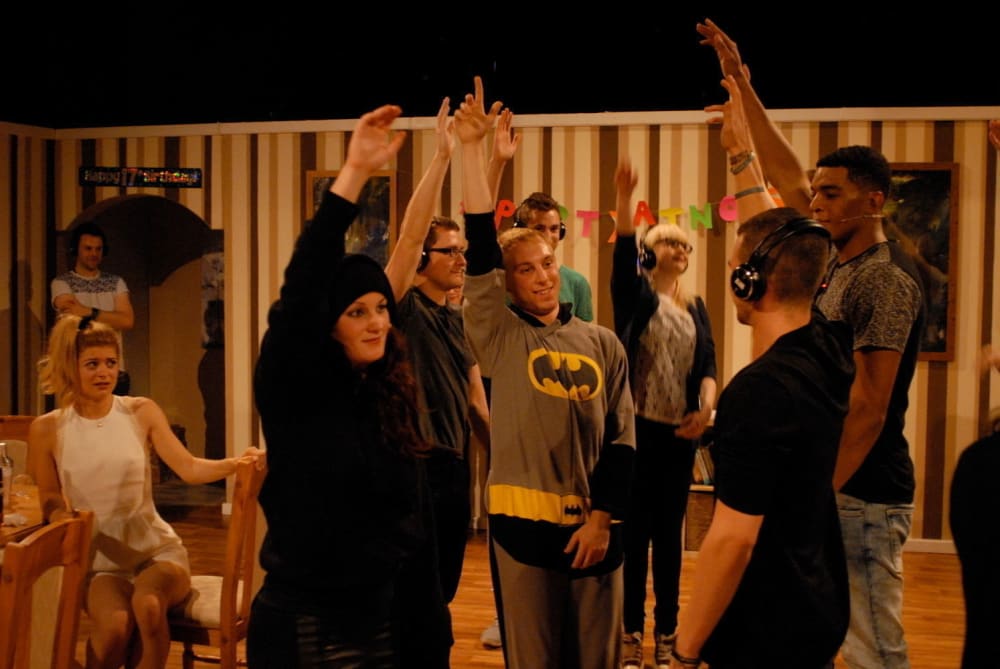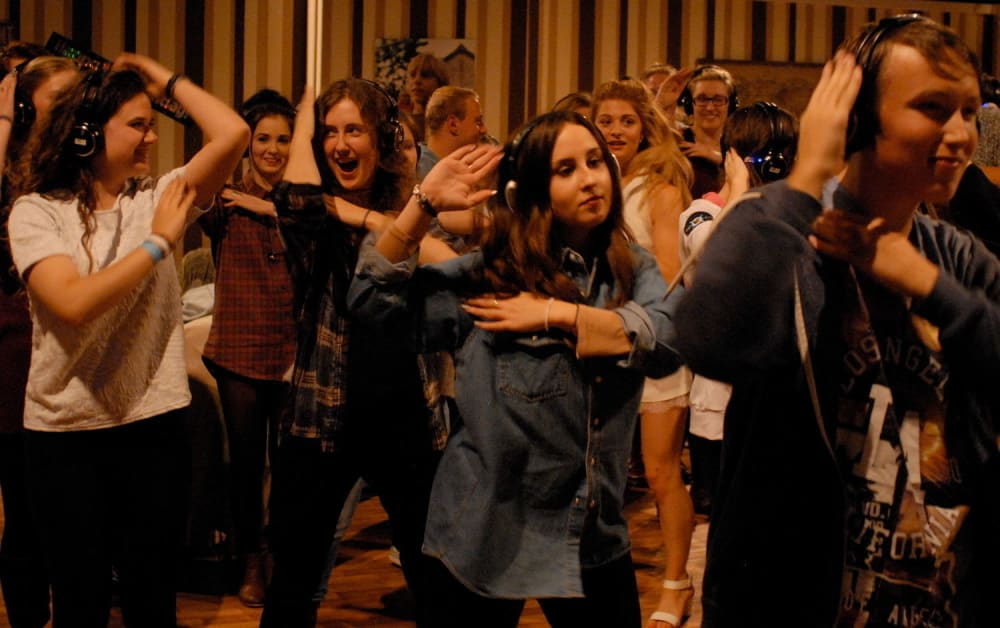 While hip-hop manga monks were thrilling audiences in Cast's main auditorium in The Five and the Prophecy of Prana, the venue's smaller second space had been converted into a suburban front room for Zest Theatre's perhaps equally exuberant Gatecrash.
Originating in Lincoln, Zest promises "exciting theatre for, by and with young people", and this immersive, rulebook-tearing new work was indeed created with the participation of nearly 100 youngsters. It repays their contribution with a joyous piece which uses an eye-opening new format to tell a tale of heartbreak, alcoholism and abandonment—just your average 17-year-old's surprise birthday party then.
Handed headphones by a stage manager and shepherded into the performance space through the front door, the audience finds itself mingling, at first somewhat awkwardly, in a large front room.
We're welcomed by Jazz (Melissa Grace) and free to explore the array of graphic novels strewn over the coffee table, the university prospectuses on the sideboard or the tell-tale birthday cards. These are a testament to the superlative attention to detail evidenced throughout the production, a truly plausible selection of messages from various family members and friends which quickly sketch a picture of the young lad whose arrival we're awaiting.
As the evening progresses, more guests arrive, and we are able to listen in to the performers' conversations using the wireless headphones provided. Reminiscent of other immersive work such as last year's Blood + Chocolate, this differs in scale (we are confined to a single room) but also in interactivity.
Like in a 'Silent Disco', you're able to select between two channels which in this case follow different plot lines. This is expertly mixed (thanks to Ari Levy's superb sound work), and all the while backed by a soundtrack of the latest party tunes astutely (and successfully) chosen to get the younger members of the audience involved and dancing from early on.
Drinks and snacks are distributed, games are coordinated and dares are handed out by the two stage managers, Craig Hollingsworth and Casey Wells, who are both excellent and as crucial to the production as the named actors themselves.
All the while we learn more about the lives of the five young adults (played by youthful adult actors) at the heart of the story. Jazz (Melissa Grace) dreams of travel but is stuck behind in suburbia. It's her younger brother Sam's (Alex Harvey Sporle's) birthday, but suspicions soon arise that she's thrown this surprise party more for her own gratification than his.
Melissa Grace, like the rest of the cast, moves fluidly between crowd control, hosting, and a dynamic range of emotion, keeping the different stories on track with a powerful performance.
Lydia Lakemoore as Imogen makes a plausibly glamorous and flighty object of Sam's desire, and her character's degeneration in status over the performance is well plotted. Luke Vernon is the charismatic and cocky, but ultimately vulnerable and deeply sympathetic Jonno, likeable for the sheer force of his performance.
And Amy Forde appears as (another) unwanted guest at the party, her story quieter than the others' but nonetheless featuring a number of dramatic showdowns, delivered with conviction in another intense and convincing performance.
Birthday boy Sam's (Alex Harvey Sporle's) first appearance in a (rather old-school) Batman onesie is an emblem of his great strength as a performer, that of defiant downtroddenness, and his is the character that evinces awws and near tears from many of the younger audience members.
It is at heart an incredibly strong and engrossing ensemble performance. It doesn't matter that the storylines, in a different format, might seem melodramatic or predictable; they are truthful, interesting and comic (I was told by Sam at one point to stop laughing, as I chuckled at his bathetic turn of phrase).
These plots and conversations weave together and overlap with superlative grace and apparent ease, which is testament to the SMs, the sound engineer, and the confident performers who never once falter.
As in the above example, all of the performers improvise and adapt to a sometimes chaotic environment with ease. The audience is right in the thick of things, and the actors negotiate this relationship with poise and skill, whether twerking on chairs, leading party games, or vomiting into handbags.
If all this is sounding terrifying to anyone over the age of sixteen, it is to the company's further credit that never once are we forced to do anything against our will—the curse of 'enforced' interaction does not blight this winning production.
Writer/director Toby Ealden and designer Myk Hoyle have woven a fascinating form from the experiences of the teenagers they worked with, and assembled a talented ensemble to perform the show. It's an engaging, entertaining experience of the most invigorating kind.
So, the venue, Cast, surpassed all expectations for my first visit, and I will be keeping an eye on their very promising-looking forthcoming programme. And Zest Theatre is one to watch with a similar avidity.
Indeed, by the end, the strength of their performance and the very unforced nature of the interaction had won me over to such an extent that I found myself happily participating. Who would have thought that on a dark night in Doncaster I would, after all these years, find a purpose for those Macarena dance moves learned all those years ago in a dim provincial disco.
Reviewer: Mark Smith