Gatsby: A New Musical
Helen Brown and John Moore
1552 Productions Shrewsbury School
Paradise in Augustines
–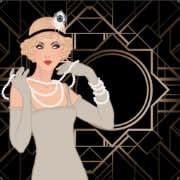 Shrewsbury School has been bringing original musicals to the Fringe for the past 15 years. During this time, they have garnered critical acclaim including a Fringe First Award for their production of Jekyll!. So quite a reputation to live up to.
This year, they have brought an all-singing, all-dancing adaption of F Scott Fitzgerald's novel The Great Gatsby.
Nick Caraway (Ed Pickersgill) is an ambitious young man determined to make his way in selling bonds. Living on Long Island alongside the rich and famous people, he is introduced to the elusive millionaire Jay Gatsby, a striking performance from Guy Davis.
It's a glitzy, glamorous world with extravagant, hedonistic parties. Gatsby has always been in love with Daisy Buchanan, outstandingly played by Charlie Holliday, who has a wonderful singing voice.
She is in a loveless marriage with her unfaithful husband Tom Buchanan (Laurie Morgan) and Gatsby is determined to woo her back to his side. Things get complicated between Tom and his mistress Myrtle (Kate Woodman) and her mechanic husband George(Louis Graham).
Following a wild stay in New York, there is a tragic, drunken road accident resulting in Myrtle's death and George seeking retribution.
The impressive troupe of dancers, beautifully dressed in period costumes, give exuberant, spectacular dance routines filled with all the razzmatazz of the '20s slickly choreographed by Sian Archer.
The ensemble embrace their characters with confidence giving moving committed performances. John Moore's score perfectly captures the period and the band are absolutely first class.
Perhaps the sound balance needed a little tweaking on the performance I saw, but this production, skilfully directed by Helen Brown, is one to see.
Reviewer: Robin Strapp