Gee, But It's Good To Be Here! (An Audience with Ethel Merman)
Steve Burbridge
The Trent House, Newcastle
–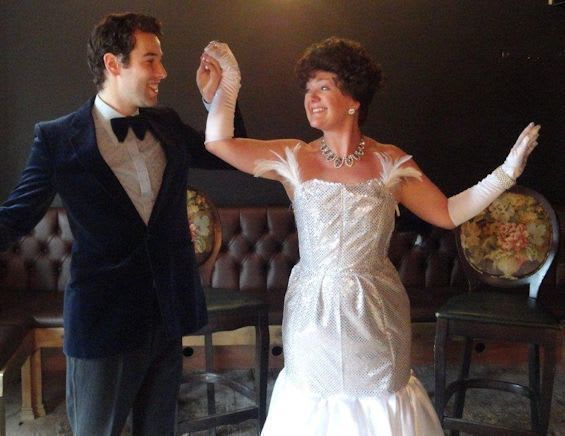 We're all used to tribute acts, recreations of bands or solo singers present or past, and we've also seen the various An Audience with… programmes on TV.
Steve Burbridge has combined the two, creating an imagined interview with Broadway star Ethel Merman, who died at the age of 76 in 1984, interspersed with recreations of some of her best known songs including "There's No Business Like Showbusiness" and, from her final appearance on the Broadway stage, "Hello Dolly!", a show which was written for her but in which she didn't actually appear until 1970.
Singer/actress Nicki French plays Merman and local actor Christopher Strain is the MC who questions her about her life and career and, at one point, even joins in her performance of "You're the top".
They talk about the shows in which she starred, her relationships with her co-stars (particularly memorable are those with Ginger Rogers and Bing Crosby) and her marriages. No spoilers here, but her comment on Ernest Borgnine was hilarious—their marriage lasted just 38 days!
It's performed in the upstairs room of The Trent House, a pub in Newcastle not far from the city centre. It's small, with the audience sat at tables, but surprisingly not as intimate as you might expect, partially because it is much longer than it is wide and partially because the show is played as if one end of the room is the stage, which was fine for the "audience with" part but meant that the songs were performed in the same way, with a definite separation between singer and audience, which was a little at odds with the room itself. On the other hand, that was Merman's style…
Nicki French's performance does capture the essence of Merman, a singer for whom the words "belting out a song" could well have been invented, and she also conveys the impression—as Merman did, probably unintentionally—that she was not the easiest person to get on with.
Christopher Strain gets the surface obsequiousness mingled with a few subtly probing questions and comments which a good interviewer can juggle effectively and thus make the interviewee admit to more than they realise!
It's very much a niche show: if you're a fan of Merman—and clearly many of the audience were—or of musical theatre, you'll love it: it's a reminder of her sheer power as a singer and performer, and the discussions with the MC offer a fascinating insight into the "glamorous" worlds of Broadway and Hollywood during the heyday of the American musical.
Reviewer: Peter Lathan