Geoff Dead: Disco For Sale
Fiona Evans
Live Theatre, Newcastle
(2008)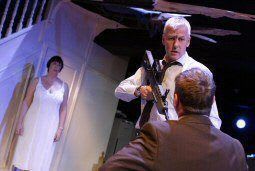 "Geoff dead: disco for sale" - the words spoken by Geoff Gray Senior when he learned that local papers give the first five words of an obituary free of charge. It's the sort of bleak humour in the midst of tragedy which characterises Fiona Evans' new play about the deaths of young soldiers at the Deepcut Barracks.
The play concentrates on the deaths of Privates Geoff Gray and James Collinson through the families' fight for a full public inquiry. It's structurally complex, using what is almost a "play within the play", as well as direct addressing of (and interaction with) the audience and flashbacks, and evokes an equally complex reaction in us as we watch and listen.
The term "emotional rollercoaster" has become a cliché but in the right context it can be exactly the right phrase, and this is very definitely the right context. The audience is swept along from the outset as actors Deka Walmsley (playing Geoff Gray Senior) and Libby Davison (Diane Gray) introduce themselves and their son's childhood friend David (Rob Atkinson) as if in a public meeting. From here we are plunged into the horror of learning of young Geoff's death, their pride in their son, their meeting with the family of James Collinson and the ups and downs of their joint fight to learn the truth, a fight which is still continuing.
Evan's writing is taut and spare, avoiding any temptation to fall into melodrama, and sure in its emotional control. There are moments when the play brings us to laughter, to tears and to anger and the press night audience's reactions were audible. There is subtle use of projected video (by John Lloyd Fillingham), music (by Olly Fox) and sound (Martin Hodgson), all beautifully orchestrated by Deborah Bruce's sensitive direction on a subtly symbolic set by Jo Newberry, lit by Douglas Kuhrt.
Although the focus is on the Gray family, we also meet Jim Collinson (played by Neil McKinven), father of James, and his daughter Claire (Chloe Lang), who was 11 years old at the time of her brother's death.
They are real, three-dimensional people, which contrasts with the other characters in the play (played by Lang, Atkinson and Nick Bagnall), all of whom are seen - and therefore played - from the point of view of the families. It is a tribute to the excellent cast and Evans' writing that this mixture of playing styles works so well.
I do have one criticism: the play is short, coming in at about two hours including a longish interval, and that interval, I feel, was not only unnecessary but also broke the tension. The cast did re-establish it, and fairly quickly too, but they shouldn't have had to. Ninety or so minutes without an interval is perfectly acceptable and the benefits would have been many. But that's my one caveat and it's pretty minor in the scheme of things.
This is a play which deserves a life beyond Live. A word to Nick Hytner: this would go really well in the Cottesloe and would make a fine successor to The Pitman Painters in that space. Fiona Evans doesn't have the fame of Lee Hall, but make no mistake: she will.
(As an interesting aside, while having a post-show cigarette - yes, I know: shame on me! - I got talking to what turned out to be the real Geoff Gray and Jim Collinson and they said that Evans' re-creation of the domestic scenes was absolutely accurate and they have been deeply moved and heartened by audience reaction to the play. They ask that people throughout the country support their fight for a public inquiry by signing the petition on the 10 Downing Street website. I already have: please do so at petitions.pm.gov.uk/Deepcut-justice/.)
Running at Live Theatre, Newcastle, until 8th November
Reviewer: Peter Lathan