Gerry & Sewell
Jamie Alexander Eastlake
Laurels Theatre
Laurels, Whitley Bay
–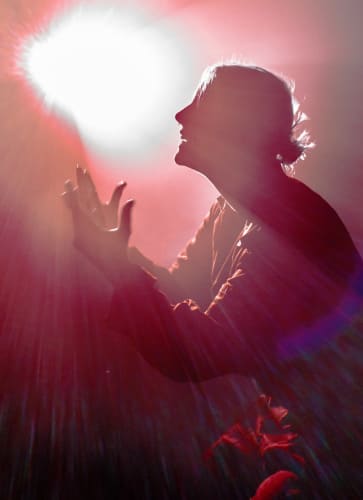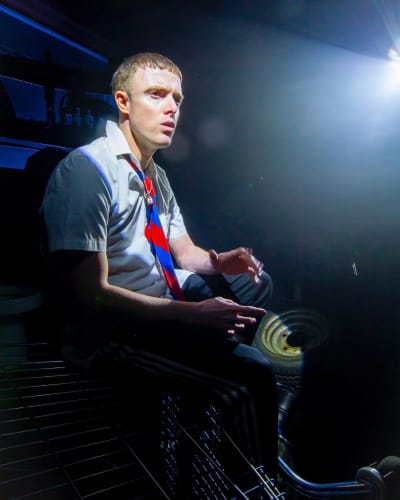 Recently, we had Michael Chaplin's evocative sixty-year footie memoir to the Toon, Newcastle United Stole My Heart; now comes Jamie Alexander Eastlake's play Gerry & Sewell.
'The Toon' for the uninitiated is the Tyneside synonym for their beloved team which probably has a stronger hold on its region than any other—Liverpool and Manchester included.
This play's antecedents stretch back more than two decades. 2000 saw the release of both Jonathan Tulloch's book The Season Ticket and its big screen adaptation, Purely Belter. The latter included various big North East names, including Tim Healy, Charlie Hardwick and Kevin Whateley.
Now comes this three-hander stage adaptation of the book. The beautifully simple plotline is full of potential, as Gerry (Dean Logan) and Sewell (Jack Bart), a couple of working class Tyneside likely lads, spend 90 minutes struggling to fulfil their life's dream—obtaining season tickets to St. James' Park (also for the uninitiated, that's the ground of Newcastle United). The highly versatile Rebecca Clayburn, playing more characters than I could keep count of and not all of whom I could always identify, completes the cast.
Though football remains a mainly working class sport, the crazy finances of the Premier League has put the likes of season tickets beyond the resources of many of that traditional base, allowing the 'salmon sandwich' brigade of Roy Keane's memorable phrase a much stronger presence.
Thus the sympathetic large audience at Laurels, the coast's plucky alternative venue for live performance, accepts readily that the duo's efforts to obtain the mythical tickets will involve some illegality, mainly theft.
Sewell (bulky) and Gerry (small) are in a long humorous tradition of Little & Large, Laurel & Hardy et al, yet although highly comic, the play is so deeply rooted in the usually neglected underbelly of society as never to leave us too comfortable in our seats.
Drug, alcohol and child abuse, prison, violence and foul language abound; nor are the audience totally safe—Sewell almost nicked my hat and unfairly pointed out one middle-aged woman as an old granny—though the audience is as soft as clarts (as the saying goes hereabouts) for whom the cast can seemingly do no wrong.
It's all directed at breakneck speed by Steve Robertson and against a flexibly lit Angel of the North backdrop (lighting and design by BrightStar).
Jack Bart's Sewell is just lumpish enough, playing against Dean Logan's more nimble-witted Gerry. Despite the duo's anti-social behaviour and their nicking off with whatever they think may turn a few bob (at one stage they heave out from under an audience row a bulky ceramic toilet), there's never much chance we won't be rooting for them. For in all the bleakness, this is an optimistic play at heart.
Timewise, it's been relocated into the barren Ashley era—a disastrous fifteen years for the club with a rapid succession of unsuccessful managers as the then owner Mike Ashley sucked much of the soul and hope from St. James' Park. The toon are back now and, under the filthy rich though somewhat dubious ownership of the Saudi consortium (not a conflict the play's update much addresses), they are threatening to climb back among the big boys.
Sometimes messy, occasionally confusing, overall, this is a zealous rough beast of a drama touching on some of our national game's huge ambivalences. It's also a highly personal story which author Jamie Eastlake (who also runs Laurels) has long wanted to retell on his own terms. The text is published by Methuen Drama.
Following its spell at Laurels, it goes on a national tour. Let's see what non-Tynesiders make of its gutsy beating heart.
Reviewer: Peter Mortimer