Gertrude, Queen of Denmark
Sarah Lawson
Act Provocateur
Lion and Unicorn Theatre
(2007)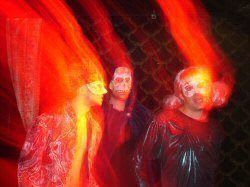 Hamlet rewritten from the viewpoint of his mother. Not unlike Stoppard's Rosenkrantz and Guildenstern are Dead, the playwright tries to show what motivated Hamlet's mother to remarry. Gertrude explains this in detail to Hamlet, who is still the very gloomy Dane.
Three new characters are introduced: a lively performance by a dynamic trainee fool, Tim MacAvoy as young Yorick; Hamlet's elder sister Gudrun, (Lucinda Westcar) who became the abbess of a convent rather than make a diplomatic marriage to Fortinbras, and Mrs Polonius, (Gill Stoker) who gives a wonderful performance of a grief-stricken old lady who has lost her husband and her daughter.
Fortinbras (Fergus Rees) is a brutal Nordic character who believes in war and will not support Gertrude's attempts to have a peace treaty between Denmark and Norway.
There is no attempt to speak in Shakespearean English, but the play hangs together as a whole and the modern language does nothing to distract from the evening. The acting is very vigorous and the new interpretation (which would not have occurred to Shakespeare) makes a very thought-provoking evening.
Until October 21
Reviewer: Norman Franklin