Gertrude's Secret
Benedick West
Pure Bedlam Productions
Yvonne Arnaud Theatre, Guildford
(2008)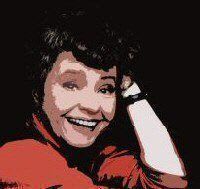 Gertrude's Secret is only one of ten monologues written in the style of Alan Bennett's Talking Heads, the author having 'enlisted' some of his family to take part, and the role of Gertrude is performed by cousin-by-marriage Prunella Scales, the most famous and well-loved member of the cast, although surprisingly here not her most impressive performance
These are 'bite-sized' monologues – short, to the point, and giving a brief insight into the lives of the characters - a little look behind the façade to what is really in their hearts. Everyone has their secret, not just Gertrude, although hers is the most dramatic, and would have been especially so at the end of the show. It is her birthday and she sits waiting hopefully yet forlornly for a 'phone call from her daughter, recounting the story of her unhappy marriage while her secret lurks behind the sofa.
Anne Bird begins the proceedings as Maureen in a spirited performance excitedly describing her blossoming relationship with Derek, and confiding how strange it is that they should keep bumping into each other in the most unlikely places – it must be fate. Gradually it dawns that this is a girl with an obsession – a stalker who will stop at nothing to be close to her beloved, although she comments that on reflection it was perhaps a mistake to poison his cat!
Ex-docker Terence (Sion Tudor Owen), sadly downing his beer, has fond memories of the birth of his son, and is bewildered that such a lovely child should turn into a violent mugger, fervently hoping that a prison sentence will straighten him out while "frightfully posh" keen gardener Candida is Ann Micklethwaite who achieves a quick switch to the Lithuanian Au Pair/Nanny, and finds her affections are not where she previously supposed. Natalie Cassidy is cleaner Eva, with an unfortunate allergy to house dust which gives her 'a personal itch' and she manages to entertainingly out-malaprop the original.
The description of an aborted suicide attempt caused a chill, as I remembered a close friend who had succeeded in his aim the very same way. In this case Christopher Knott's character has the car engine running, the exhaust channelled into the window, and has taken the pills and the vodka ---- then he wonders if it will work with diesel!
The author's fourteen year old daughter Jerusha, making her theatrical début in this show as ten year old Emily, is splendidly realistic as the innocent child, left in a hotel bedroom by her father while he attends to 'business'. She is lonely and frightened, amusing herself by playing computer games and finding a new 'friend' on the internet. One who will meet her in the woods when she returns home, but it must be a secret!
A very well observed but sad reflection on present day life with its hopes, fears, idiosyncrasies and comedy, which is always present even in the midst of tragedy, and everyone of these characters is lonely, disappointed with life, or has finally retaliated against abuse – and what will be the fate of poor neglected Emily?
Very humorous, as well as sad, and the audience listened with rapt attention, but ten characters are too rushed in such a short production, leaving no space to develop each one. Less – as they say – is often more!
Reviewer: Sheila Connor