Get Away
Greg MacArthur
Second Glance Theatre
Old Red Lion
(2007)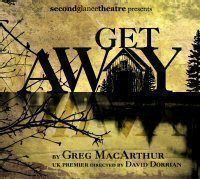 An epidemic of malaise is sweeping the globe, alienating individuals and prompting whole communities to mass suicide pacts. Middle-aged David can take it no more and makes his escape to a ge- away log cabin by the woods, where he lives for a while in isolation, contemplating his and the world's emotional crises.
In the woods, he meets homeless teenagers Garbo and Henry, who are performing their own peculiar brand of cabaret. When their tent burns down mid-show, David invites them into his home. But what initially seems a straightforwardly altruistic gesture soon becomes a lot more complicated, and it is not long before the three are sharing a bed and David is showing a bit more interest than is healthy in the steam billowing from under the bathrom door as his two young housemates bathe together...
Greg MacArthur's play tackles ambitious and important social questions for the city-dwellers of the 21st century about isolation and its potentially devastating effects. The play is compelling in concept if not entirely in execution. While the Tim Burtonesque naturalistic/non-naturalistic aspects of both plot and dialogue are well-conceived, either playwright or director or both haven't finally decided how they should play against each other, which leaves the actors looking slightly uncomfortable throughout. Sheree Tams' story-book scary wood set design captures vividly the tension between the exterior and interior landscapes of the play, but the more difficult challenge of dealing with this in the writing and direction are less well-resolved.
Kira Lauren gives a fine performance as the slightly other-worldly but entirely switched-on Garbo. Robert Carragher's Henry is engaging, but perhaps suffers more from the uncertainties of script and direction. Qarie Marshall carries off a difficult part with conviction and with a good ear for the humour inherent in David's situation, although again indecision as to whether or not David is supposed to be conscious of his audience made for a less compelling performance than one feels Marshall could muster if pushed.
In an interview printed in the programme, MacArthur says he wrote the play during his own period of apathetic malaise. Perhaps herein lies the play's principal problem. While the writing has its moments and MacArthur is clearly a talent to watch, the play suffers from a lack of definition and a touch of self-indulgence. In its current production, it is worth a watch as an indication of what might be to come from a company and writer who clearly have the potential, if they have not quite managed it this time, to produce much sharper, harder-hitting work. On current form, Second Glance is at least to be commended for the scale of its ambition in bringing this kind of highly original new writing to the UK. For its interesting take on an important subject, Get Away is the kind of play which makes you realise how important fringe theatre is to the cultural life of the capital.
Until 7 July 2007
Reviewer: Louise Hill