Gethsemane
David Hare
A National Theatre production
Theatre Royal, Newcastle, and touring
(2009)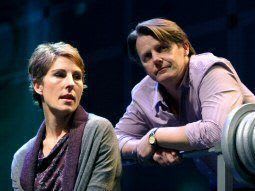 "Gethsemane is my third recent play at the National Theatre drawing on public events," says David Hare in a programme note. "The Permanent Way is pure fact, transcribed. Stuff Happens is one-third transcribed, two thirds imagined. Gethsemane is pure fiction."
Of course it is. We've never had a Prime Minister (played by Anthony Calf) who plays the drums and has close ties to a highly influential "fixer" who raises money for the party by promising a "business-friendly environment". We've never had a senior Cabinet member whose husband is about to be tried abroad on corruption charges but who still refuses to resign. Have we?
Hare is an unashamedly political writer, sometimes polemical, as in The Permanent Way, and sometimes reflective, as in his 1993 "state of the nation" play, Absence of War. In Gethsemane the polemicism, although still present to a degree, is muted. But it's not so much "state of the nation" as "state of politics". The post-Thatcherite Absence of War addressed the problems of a Labour Party which seemed unable to find its way and the suggestion emerged that the only way to beat the Tories was to join them. Gethsemane is set in a (New) Labour Party which has been in government for a long time and there is that feeling of smugness, even arrogance, which comes with the long exercise of power.
The play mingles the personal - the family problems of Home Secretary Meredith Guest (Tamsin Greig), she whose husband is to be tried but whose daughter Suzette (Jessica Raine) has also been caught smoking dope in her posh girls' school; the crisis of conscience of headhunted Mike Drysdale (Daniel Ryan) when he finds what his new job with "fixer" Otto Fallon (Stanley Townsend) really inolves - with the political.
As well as the main thrust of the piece, there are other not quite sub-plots, such as the way in which political commitment can have a disturbing - or indeed disruptive - effect on the family life of those involved; the reflections on the state of the education system from Mike Drysdale's wife, Lori (Nicola Walker), an ex-teacher turned busker who is called in to deal with Suzette; the whole "spin" topic, represented by Monique (Gugu Mbatha-Raw), political advisor to Meredith Guest, and the relationship between politics and journalism (and, indeed, the state of journalism).
In some ways it might be said that Hare tackles too many topics. It's not that the whole thing doesn't hold together - for it most certainly does: Hare is a master craftsman - but rather that the audience's attention has to refocus rather too often.
That said, Gethsemane is a powerful piece of political theatre which is superbly performed. What seems, at the opening, to be a very simple set turns out to be incredibly flexible and the use of projected scenes is very effective. It was a small audience at the Newcastle opening night, but a very appreciative one. Newcastle audiences really should grab the chance of seeing a piece of theatre, the likes of which we don't see that often in the North East.
Philip Fisher reviewed this production at the Cottesloe
Touring to Cambridge and Brighton
Reviewer: Peter Lathan