Ghost Dances and Other Works
Christopher Bruce, Didy Veldman and Aletta Collins
Rambert
Sadler's Wells
–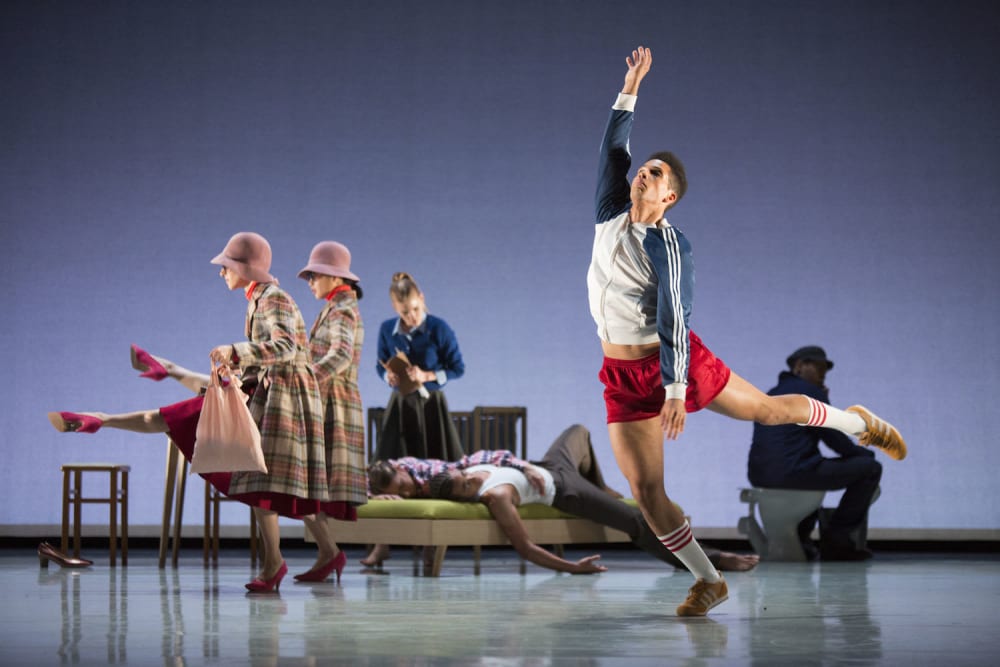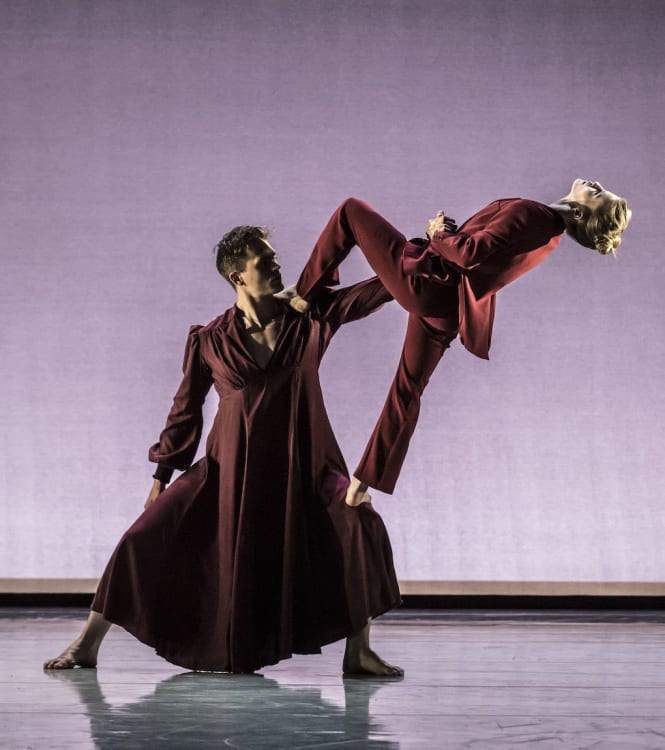 After an absence of 14 years, Rambert has brought Ghost Dances back into its repertoire. In this bill, it is preceded by a new work from Aletta Collins and Didy Veldman's The Three Dancers.
Aletta Collins's The days run away like wild horses begins as a homage to an eight-minute long animated film by Zbigniew Rybczyński called Tango in which 36 different characters make loops of movement through the same room. She presents something very similar in an angled box set as a woman sits at a table a boy boots a ball through the window then dives in after it, then ball and boy dive out again.
A succession of people appear through different doorways: a girl with a baby puts it into a cot, various young couples, including one pair eager to copulate, a lad with a tinsel-trimmed Christmas tree, a girl with her homework, a plumber lugging a bucket and a toilet. Each has a riff which they keep repeating creating a room of busy interaction. Are they in an overcrowded rooming house or is this an onrush of the first woman's memories?
Sometimes the action freezes, a single character left performing one simple movement, such as a shrug or dusting the room's naked light bulb, a gesture that is then taken up briefly by the others. It is a fascinating collage of interesting movement that also collates time. Then the room starts to pull apart, its back wall is flown out and there is a babble of voices.
To the Latin rhythms and bright brass and percussion of Arturo Márquez's Danzones there follows a succession of variations, sometimes the whole company in swaying, almost stately movement, sometimes a lyrical romantic duet but at every new entrance more of the cast seem to be turning into the woman it started with. Men become skirted, girls suited, gender disappears. There is no clear indication of how to interpret it but it develops organically and looks lovely.
The days run away like wild horses is designed by Katrina Lindsay and Collins credits the dancers for their contribution to the choreography.
Second in the programme is Didy Veldman's The Three Dancers, danced to a specially composed score by Elena Kats-Chernin. The commission from Rambert was to create a dance piece inspired by Picasso's 1925 painting Les Trois Danseuses. The painting shows three figures tensely gripping each other's hands. They all seem to have breasts but art gurus have identified them as friends of Picasso who formed a love triangle that ended in a suicide. That background clearly informs Veldman's choreography but it could also be given a much wider interpretation.
She presents us with two threesomes, one dressed in white, the other in black. In both groups each person holds hands with the others hand to form a circle. To a metronome-like beat they twist and turn, pulling one or the other toward them, diving beneath arms, a tangle of competing passions. First one group is lit and then the other, their angular shapes contorted and moving in contrast to the dark diamond on the backcloth behind them (design is by Kimie Nakano). There is a real sense here of erotic attraction and the painful struggles of competition for affection but Veldman takes this further.
The trios separate, black and white mingle and then begin new pairings. There is a male on male experiment that shows promise of going somewhere and then is ended with a regretful glance back after parting.
A huge shard of glass descends, its tip just missing dancers, and two more follow at different angles, catching reflections, sharp angles in contrast to the curved lines formed by the dancers.
The choreography explores various couplings and combinations until the score becomes darker and the two trios re-assemble. There is a flowering of feeling in duets that verge on the romantic but it comes back to the tensions of competition, jealousy, suspicion and frustration and perhaps a reminder that the painting probably remembers a suicide.
Ghost Dances, created by Christopher Bruce in 1981, was a response to a meeting with Joan Jara, author of book An Unfinished Song describing the horrors of the US-backed military coup that in 1973 made Pinochet a dictator in Chile and murdered her husband musician, actor and director Victor, and 35,000 others. It is danced to the sound of a wind and an arrangement of mainly traditional South American folk music.
Joyful rhythms with serenading guitar and the haunting sound of Andean pipes combine simple celebration of love and life with plangent soulfulness interrupted by the chill wind of death's dominion.
To the empty whistle of the wind, Bruce presents three skeletal figures, death spirits that connect with the central and South American celebration of the Day of the Dead but are much more sinister. Though they may seem almost playful, at rest and recreation they are always watchful, the gaze of their empty eyes cold and disturbing. The music and imagery are a forceful reminder of South America but the simplicity of Bruce's image references political murder and genocide anywhere, and echoes the loss of any life.
A group of people slowly enter; they begin what could be a folk dance. Couples joyfully dance out their happy relationships but death moves among them, takes partners from them. They could be ghosts too, the already dead entering the dead world, remembering past happiness and it being taken from them; they could be the living emerging into death's awareness and become its targeted victims.
At first, with fringed shawls and work clothes and a folk dance ethos these seem to be peasants but then there's a more smartly dressed couple. Death and oppressive regimes exert power over all of us. An athletic regimentation to the death spirits' dances with sharp twists and angled floor spins contrasts with the dance of the living.
There is an unhurried inevitability about death's choreography that could be universal but the death spirits pick these people out in a way that suggests they have been marked down, chosen for elimination not just because their time has come.
Ghost Dances remains a powerful dance work. Audiences today may be less aware of the ruthless right-wing suppression of an attempt to create a more egalitarian society in Chile by a dictator whom the British government befriended, but sadly it has lost none of its relevance; the world still has its death squads.
Reviewer: Howard Loxton