Ghost From A Perfect Place
Philip Ridley
Arcola Theatre
–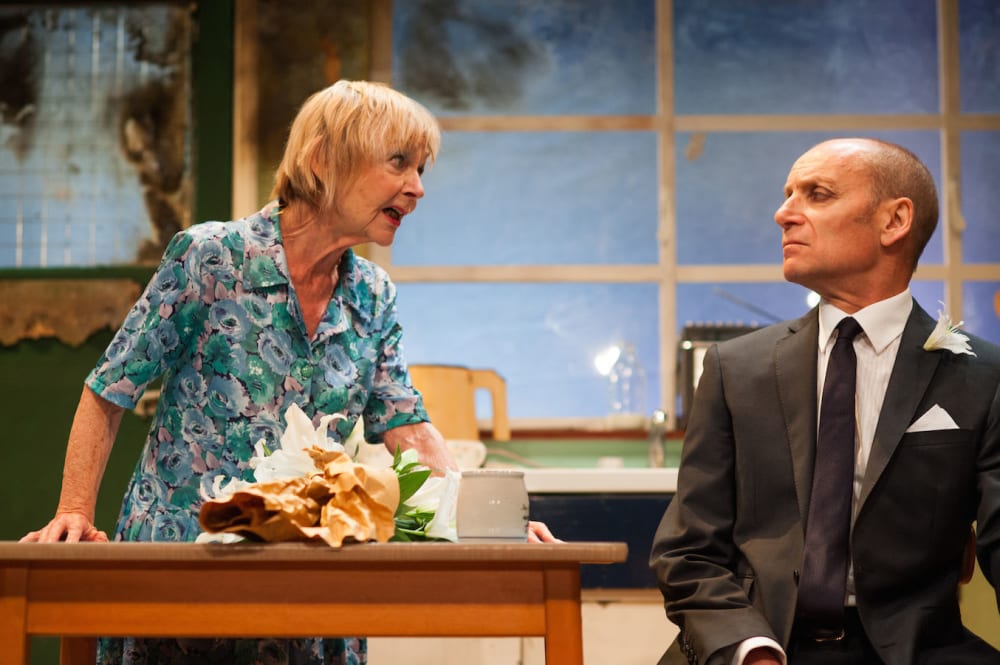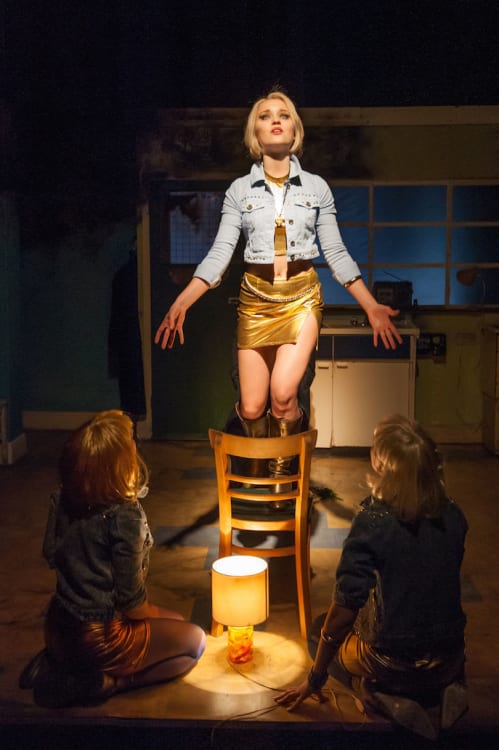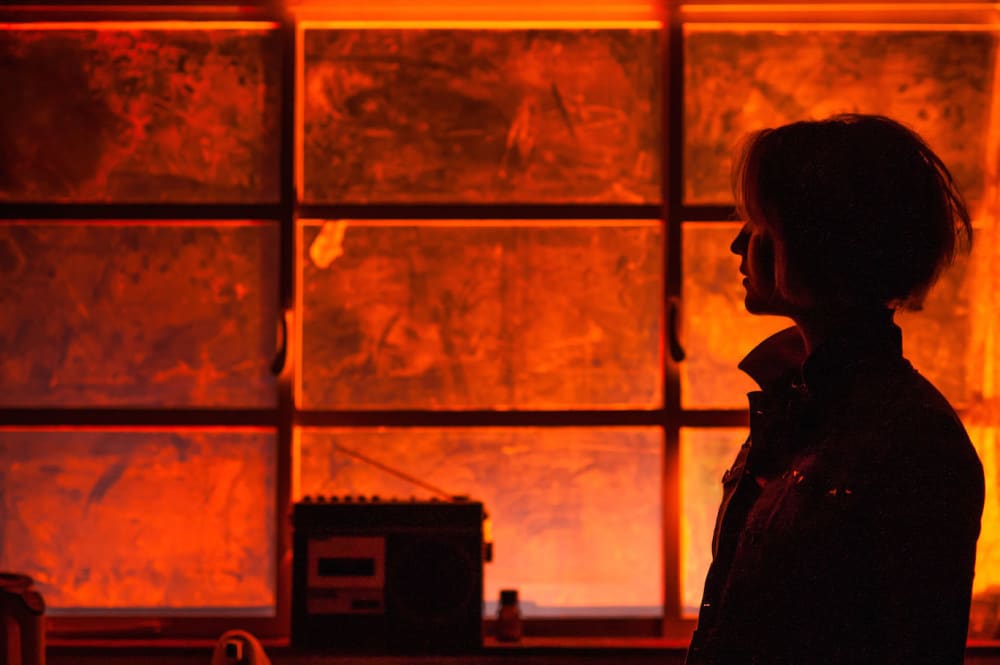 Twenty years since its premiére at Hampstead Theatre, Philip Ridley's 1994 play doesn't seem to have dated. Apart from the absence of mobile 'phones, it could be contemporary in its older generation looking back to the misremembered years, of what 76-year-old Grandma Sparks calls their "'eyday", and a younger generation caught up in gang violence.
It is not a political study (don't look here for a social investigation of contemporary problems) but a reminder of how our past shapes us and of how we may lie about it, even to ourselves. More importantly it is a totally watchable, sometimes surprising piece of theatre that offers the opportunity for stunning performance. And that's what it gets from this cast and director Russell Bolam.
It is set in the outdated, run-down kitchen of Torchie Sparks's East End flat. It still bears the signs, with soot still clinging, of a not-so-recent fire, of which she got some of the worst: she is still bandaging up her burned leg.
Is that why she's called Torchie? A geriatric old lady who's been smoking in bed or leaving the gas on? No. She used to be usherette and ice cream girl in her husband's cinema: hence her nickname—but the visitor who turns up at the door for a session with her grand-daughter doesn't remember that.
He is Travis, Travis Flood, once the boss man around here, a gangster (though he doesn't like to be called that). He is back to take a look at the old turf after (he says) years of luxurious relaxation in Hollywood. He's well-dressed and elegant. There's a white lily in his buttonhole and a bunch of them in his hand, but when he opens his mouth there's a snarl and sharp teeth there if you cross him.
The first act is just the two of them for the most part and Sheila Reid and Michael Feast play them beautifully. This is comedy acting to relish, with an acid layer showing through underneath. They each recount their past stories, making the other role-play as they act them out with a delicious running gag of Torchie prompting answers from Travis only to cap them with forceful denial.
Torchie had a daughter called Donna who came home one day aged 13 with a love bite. Months later, they discovered she was pregnant but she wouldn't name the father. When she died giving birth, Mr Sparks lost his mind. He's in a home now, for Torchie can no longer cope with looking after him.
Torchie says things were better when Travis was around as there was never any trouble. Does she really mean it or is she does saying nice things to avoid provoking him? Neither seems to remember the thing that especially links them—though one can guess at it long before any later revelations.
It dawns gradually, although grandma obviously knew it, that Travis is here for sex with her granddaughter Rio. He has already met her across the way in the churchyard. On her arrival, things start to move very differently.
It is Rio who now has the gang around here, a girl gang in shiny gold mini-skirts, and she's not having any nonsense like giving sex for free.
Rio and her teenage followers are not keen on men and there is a competitive lesbian undercurrent between them. They soon turn Travis into their victim in a revenge scenario of which they are not even aware. As in the first act, there is a retelling, a re-enactment of Rio's childhood, her fondness for matches, the dead mother-worship of a virgin Saint Donna. It all leads to this girl gang of Disciples with their rituals, torturing this defiant ex-gangster Travis Flood.
Florence Hall's Rio seems a poised and confident leader, but she is leading a pack of teenagers, ten years her junior: Scarlett Brookes's ambitiously eager Miss Sulphur, Rachel Redford's hysterically juvenile Miss Kerosene and the offstage Disciples building a bonfire in the churchyard. The vulnerability beneath their violence makes it even more frightening. This is regime change with a difference that could be read as a metaphor for our society but, interrupting the escalating ritual, Travis still has a last card to play.
Ridley's play hasn't dated as a piece of theatre but in 20 years perhaps audiences have. It's première caused outrage in some quarters; even Michael Billington called it "degrading and quasi-pornographic in its use of violence".
Since then, we have got more used to "in-yer-face" theatre. It is unlikely that this production will get the reactions of twenty years ago, but that has not lessened its visceral impact.
Reviewer: Howard Loxton