Ghost Stories by Candlelight
Georgia Shackleton, Nicola Werenowska, Shamser Sinha, Kelly Jones
HighTide Festival Productions
Christchurch Mansion, Ipswich
–

Listing details and ticket info...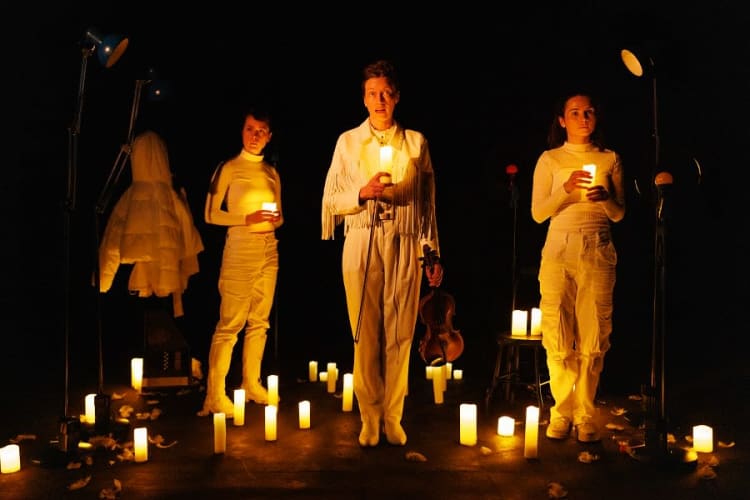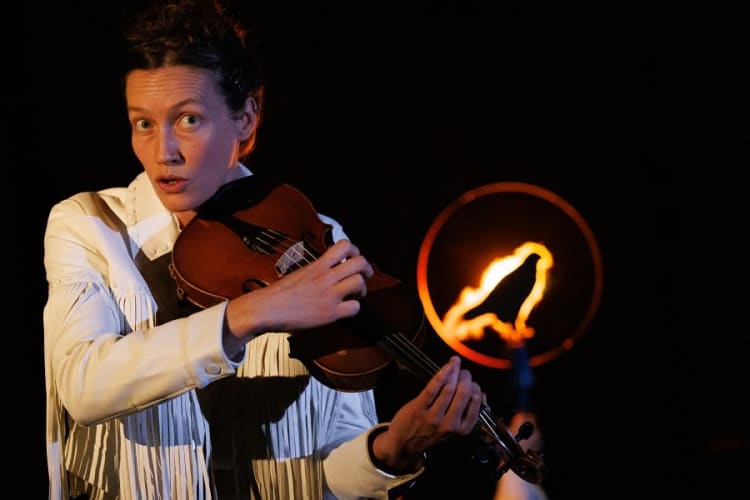 In the atmospheric setting of Christchurch Mansion's Great Hall, we gathered by candlelight to experience three newly written ghost stories to celebrate the spooky legacy of East Anglia (although one was set in Romford—but more of that later).
It's coming up to Halloween, an ideal time to produce such a collection, and you would be forgiven if you would be expecting something resembling a Victorian evening of M R James stories, but this is not a gothic recreation. HighTide has taken the idea but twisted it around and stamped very much a modern experience of the ghost story genre on this production.
So, the candles are electric, the lamps metal poise and the actors three girls in white who between them perform three contemporary stories interspersed with a sung tale of peregrines living in the fens who are tasked to find and assemble a violin to chase away an unnamed curse.
The evening opens with a haunting tune (no pun intended) played by Loren O'Dair on the fiddle, setting the tone of the evening. The Curse of The Fen, written by Georgia Shackleton, is a recurring theme played and sung by Loren between the scenes while the other two actors rearrange the candles or use the lights to create magic lantern type flying birds.
Then it's into the first story—Nicola Werenowska's The Beach Hut—performed as a monologue by a very believable Elizabeth Crarer playing a mother who takes her daughter to a haunted beach hut on Lowestoft beach out of season.
Shamser Sinha's Sacrifice is next, performed by both Elizabeth Crarer and Katie Cherry as a mother and daughter caught up in a disturbing ritual in Pin Mill woods.
Finally, Kelly Jones's Run, performed by Katie Cherry, whose intense portrayal of young girl Izzy having to walk home on her own late at night feels very authentic and unsettling. This is probably the best of the three, but I just have no idea why it is set in Romford when this was meant to be an East Anglian piece. But perhaps I missed something.
The cramped stage space makes the experience quite intense and the added use of torches ups the ante—although the cut-out birds against the lights are rather twee.
All three performers are excellent—the quality of the writing maybe more patchy. But it all adds up to an interesting and absorbing evening, even if you don't go away feeling you've had the fright of your life.
Reviewer: Suzanne Hawkes