Ghost - the Musical
Book and lyrics by Bruce Joel Rubin, music and lyrics by Dave Stewart and Glen Ballard
David Ian Productions, Ambassador Theatre Group, Colin Ingram Productions and Hello Entertainment/David Garfinkle
Opera House, Manchester
–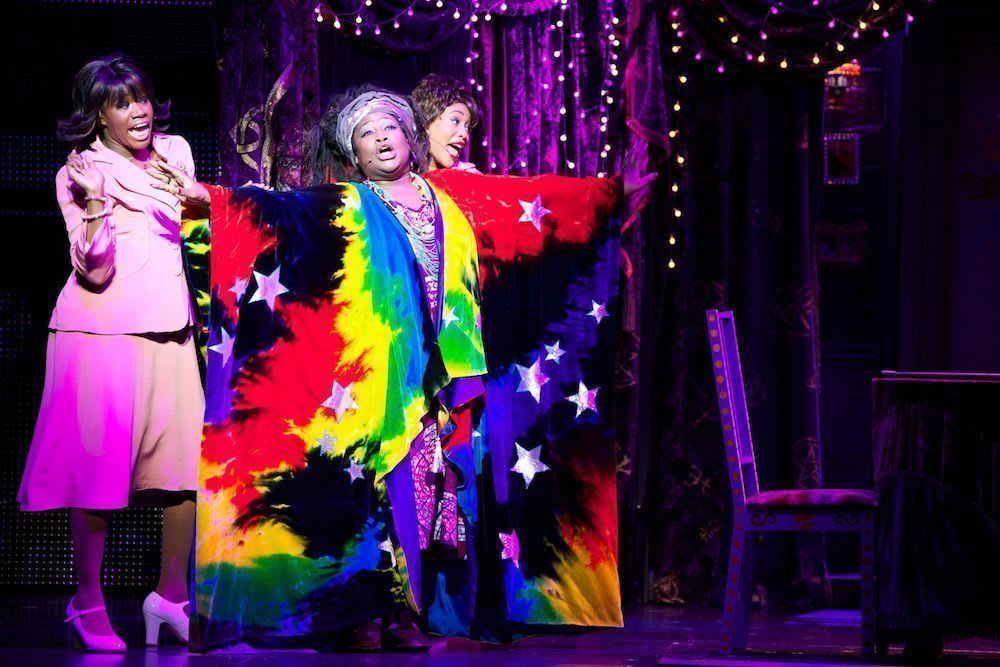 Youthful banker, Sam Wheat is brutally murdered in an apparent mugging. Sam's earthbound ghost discovers treachery and a threat to the woman he loves, Molly Jensen (a ceramicist). With the help of a previously fraudulent psychic, Oda Mae Brown, Sam sets out to track down the guilty, save Molly from the danger which threatens and finally prove his love.
Given the recent success of film-to-stage musical adaptations, it must have seemed like a great idea to do a musical version of Ghost, the biggest grossing film of 1990. Having a great idea is one thing; executing it well is quite another.
Other successful stage adaptations—such as the very fine Dirty Dancing and the outstanding Sister Act— have tended to have music at the heart of the original, and combine that with a strong sense of period in their stage productions.
Ghost, the film, has a single song at its heart: "Unchained Melody" (music: Alex North, lyrics: Hy Zaret), soaringly performed by Bobby Hatfield of the Righteous Brothers.
And herein stands the mountain to be climbed in any attempt to make a musical of Bruce Joel Rubin's artful and Oscar-winning screenplay. Namely, how to handle the unbreakable emotional link in your audience's mind between this song and the story. (Just as an indicator - a YouTube compilation of clips from the movie, using "Unchained Melody" as its soundtrack, has over 12 million hits).
Maurice Jarre, who handled the film's soundtrack was smart enough to recognise the power of the song and orchestrate it into Sam-and-Molly's-Theme.
In other words, you can't do Ghost without doing "Unchained Melody".
Early on, it looks like Dave Stewart and Glen Ballard have made a clever choice by having Sam play a comedy, Elvis-impersonator version, as he tries to win Molly round following a row. This works insofar as it serves as a taster for what ought to be a full-blown, emotionally-draining rendition later in the show. What we get instead, as Sam is about to depart for a better afterlife, is a truncated version, leaving the audience marooned, halfway up the heavenly ladder to catharsis.
Stewart and Ballard's own music is okay, though their lyrics are flat and banal (with the exception of the lively rap "Focus" in act two, snappily delivered by Michael Cortez as Subway Ghost). Ashley Warren's choreography is skilfully executed, but to what purpose, other than to clutter the stage with dancers? Only "Are You a Believer?", danced to excellent comedy effect by Karlene Wray (Clara) and Keisha Atwell (Louise), really contributes to the show.
On the plus side, this production makes impressive use of lighting and projection (Hugh Vanstone and Tim Lutkin) to create alternately New York City and a sense of the supernatural. A nice 'smoke-and-mirrors' special effect, when Sam first masters the art of walking through doors, is a particular highlight (Paul Kieve warrants credit for this).
Of the principles, Wendy Mae Brown's turn as her almost namesake, Oda Mae Brown, stands head and shoulders above the rest; Whoopi Goldberg's Academy Award-winning original is given a very good run for her money. Stewart Clarke (Sam) has put in the hours in the gym and the removal of his shirt almost wins a standing ovation. He and Rebecca Trehearn (Molly) sing well enough (when they can be heard above the combined assault of orchestra and aircon), and David Roberts makes a suitably treacly, twitchy and treacherous Carl.
That the show kind of works despite its shortcomings is largely down to the skill of Rubin's storytelling, which makes full play of romantic and heroic archetypes: the Hero returns from beyond the grave to punish the wrongdoers, protect his lady and prove that love is both strong and enduring.
As one member of the audience put it to me:
"It wasn't great, but I cried anyway."
Reviewer: Martin Thomasson