Ghost - the Musical
Book and lyrics by Bruce Joel Rubin, music and lyrics by Dave Stewart and Glen Ballard, based on the Paramount Pictures Film written by Bruce Joel Rubin
Bill Kenwright
The Hawth, Crawley
–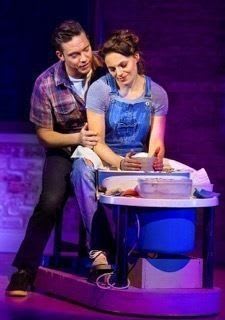 The 1990 film of Ghost was a huge box office hit, a love story about a boy who, shot dead in a street mugging, is trapped between two worlds refusing to leave his beloved girlfriend.
Now the story has been musicalised (is that really a word?) and is practically sung-through as there are so many musical numbers, with lyrics all keeping the story moving smoothly along, the most famous of these being "Unchained Melody", a theme throughout the film.
Never having seen the movie, I had no idea what to expect, and what I got was so much more than I expected. Not only a love story, but also a murder mystery, a financial criminality, an exploration of coping with the pain of bereavement and, most importantly, a visit to a medium.
We meet the loving couple, Molly an artist and Sam a banker, as they move into their new apartment full of excitement and plans for the future and a lot of kissing and cuddling is involved which becomes too much for Sam's friend and business colleague Carl (Sam Ferriday) who leaves them to it, but before the show becomes overly sentimental we are brought into the real world with a shock as, in a street mugging, Sam is shot dead in a very well executed and convincing manner.
From there Sam goes on a voyage of discovery learning how to cope as a ghost and, once he learns how to walk through closed doors, there's no stopping him, but he still has to speak to Molly and warn her of danger to her life.
With the multiple aspects of the story, the scenery has to keep up with the changes, and keep up it does, constantly on the move and very brilliantly devised. A challenge to tour, but it all works without a hitch, taking in street scenes, casualty ward, apartment interior and various office environments, not to mention a subway train and a "halfway to heaven" area overlooking a casualty department where Sam meets the Hospital Ghost—James Earl Adair—with a piece of advice in a very enjoyable rendition of 'You Gotta Let Go Now'.
Not so enjoyable is his visit to a subway train and a very scary "Subway Ghost" (a magnificently terrifying Garry Lee Netley) who seems to have the power of levitation with his passengers. The special effects in this production are Very Special Indeed!
Sam (Andy Moss) and Molly (Carolyn Maitland) both perform their roles expertly. Molly's pain is palpable, as is Sam's frustration at his loss of communication and, in desperation, he decides to consult medium Oda Mae. This was Whoopi Goldberg's role in the film and here Jacqui Dubois takes it and runs with it as if it was made for her, to the joy and delight of the audience. She steals every scene and the small boy in front of me was beside himself with laughter.
Alistair David's choreography is interesting, quirky and great fun with an ensemble being a range of completely different characters of all shapes and sizes. The music is played superbly by the seven-piece orchestra under the direction of Tim Whiting and Bob Tomson as director keeps the action speedy, precise and right on track.
This is one terrific show touching about every emotion known to humanity including excitement, fear, horror, mystery, pleasure, shock, joy, laughter—all thoroughly involving and thoroughly enjoyable.
Reviewer: Sheila Connor