Ghosts
Henrik Ibsen, adapted by Mike Poulton
Clwyd Theatr Cymru
Clwyd Theatr Cymru
–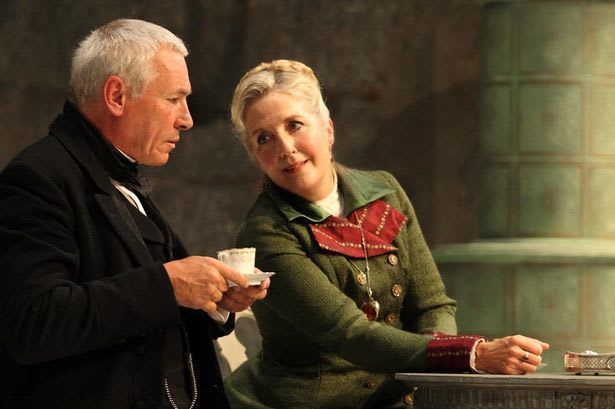 Henrik Ibsen's Ghosts is certainly enjoying a renaissance at present and this skilful production by Clwyd Theatre Cymru will only add to the popularity.
Ghosts was reviled by many at the time for a determination to confront issues such as incest, venereal disease and assisted suicide—"nauseating and menacing" was possibly one of the kinder descriptions. Today, with no such concerns, it is possible to fully contemplate the impact of wrongs of the past returning to haunt the present.
The first question to deal with is why the characters of Jakob, Osvald and Regina are speaking lines in Welsh accents. The simple answer to this: why wouldn't they? It's not as if the play is being performed in Norwegian so a Welsh company can use their own accents just as an English one would.
In any case, the themes of isolation, sea ports and dismal weather transfer well to Wales. Therefore, Llion Williams is thoroughly convincing as Jakob Engstrand who is apparently striving to found a seaman's mission as his early sinister appearance is made to the backdrop of rain.
The interplay between Jakob and Regina, well portrayed by Michelle Luther, is one of the disturbing strands of the narrative with the hint of dark actions in the past and pretty unsavoury plans for the future.
However, the relationships between Helen Alving, her son Osvald and Pastor Manders are the main focal point and Sian Howard is superb as Helen Alving. Whether engaged in futile attempts to convince the pastor of her husband's philandering ways, or in fussing around her ailing son, she is never less than convincing.
Simon Dutton manages to strike the perfect balance between righteous self-confidence and pomposity as Pastor Manders and even hints at a slight vulnerability when his past relationship with Helen is brought up.
One of the reasons for writing Ghosts was for Ibsen to challenge the haughty pretence of certain social groups, therefore Manders is an effective mouthpiece for articulating these supercilious attitudes. This is never clearer than in his willingness to allow Jakob to shoulder blame for the orphanage fire after being foolish enough to let the same Jakob trick him into accepting responsibility.
Mike Poulton's adaptation runs for approximately one hundred minutes without an interval, but Emma Lucia's skilful direction ensures that this seems like no time at all as the increasingly bleak events are revealed and the production heads towards a shattering climax.
Central to the unfolding developments is the excellent Owain Gwynn as Osvald Alving. While the word syphilis is never actually mentioned, we are left in no doubt that this young man will be paying a terrible price for the sins of his father.
There is unlikely to be a more gripping final scene throughout the splendid season that Clwyd Theatre Cymru has lined up. The emotion invested in it by Sian Howard and Owain Glynn is evident as the lights go back up and tangible in the pause before the audience applause.
Ghosts is not easy viewing, but it was not written to be. However, this production is thought provoking, gripping and splendidly performed by an excellent cast.
Reviewer: Dave Jennings