Ghosts of the Near Future
emma + PJ
Summerhall
–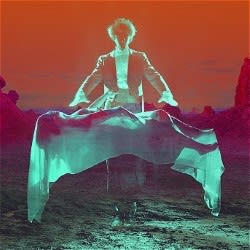 Simultaneously revealing micro and macro stories of death and extinction, from a contemporary Schrödinger's cat to a disappearing magician, Emma and PJ's brave Fringe debut is a sprawling noir-Western for the end-times.
Cleverly utilisation of handheld projection of objects laid out on a hostess trolley supports the production's focus on scale, providing opportunities for rich, surreal imagery. Zooming in and out of these moments gives the whole thing a forensic quality, suggesting things are perhaps not what they seem.
Emma and PJ's measured delivery gives space to the dry-earth narrative, which touches upon Oppenheimer, Bikini Atoll and nuclear extinction, while plucking tropes of mirages, saloons and mysterious preachers from the Nevada desert.
Presented as storytelling, the often-poetic language is used to effectively evoke the performers' anxieties about death, ending in the projected, muddled words of someone trying to make sense of it all. We are left with more questions than answers and an overall impression of urgency is subtly given to the reality of the climate crisis as our two performers prepare themselves for what is to come.
This is a boldly powerful and important theatrical experience from a young and promising company.
Reviewer: Tony Trigwell-Jones