Ghosts of the Titanic
Ron Hutchinson
Brill Productions in association with Park Theatre
Park Theatre
–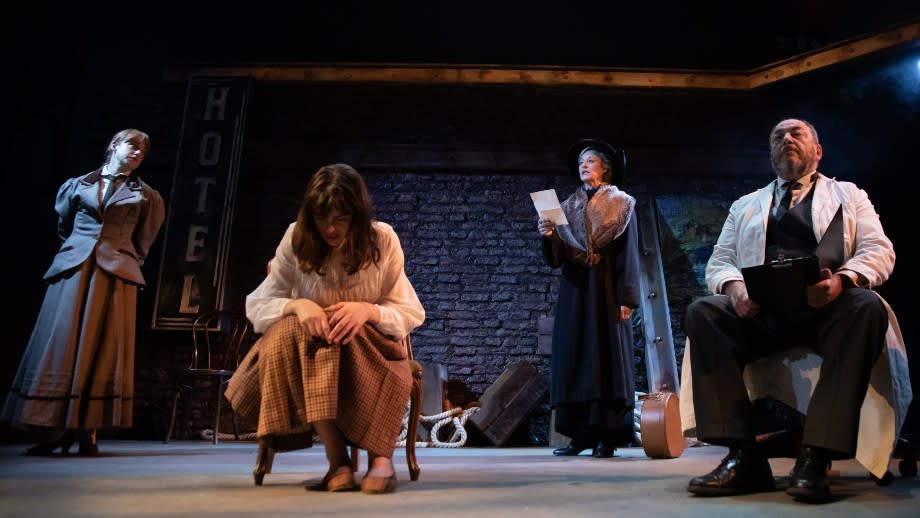 There is more than a touch of hardboiled American Noir about the New York setting of Ron Hutchinson's play Ghosts of the Titanic. It's a bleak story of flawed people caught up in the violence and possible cover-up of the powerful people who may have been responsible for what happened to the vessel. As one of the characters says of the rich that hover in the background of this show, "they're all in each other's pockets when they are not cutting each other's throats."
The English woman Emma (Genevieve Gauntn), grieving the death of her fiancé Henry in the sinking of the Titanic, is followed out of the cruiser's New York booking office by the down-at-heel journalist Molloy (John Hopkins), who is looking for a good story to pitch to a newspaper.
Emma's angry search for the truth about the disaster leads her to the Irish engineer Mcbride (Fergal Mcelherron), who is riddled with guilt about not being able to persuade his own brother that the ship was not fit to sail. She is also given material that the editor Swanson (Lizzy Mcinnerny) of a Hearst newspaper has been ordered to suppress.
All this attracts the attention of the Pinkerton Detective Agency, working for J P Morgan, the owner of the Titanic, who sends in detective Spinks (Sarah Ridgeway) to get Emma to sign a disclaimer of her embarrassing information.
This watchable old-style mystery story, with its cynical hardboiled detective, its smart snappy dialogue and its flawed characters, is an entertaining way of trawling through the facts and imagined conspiracies of this terrible disaster, but it doesn't build much dramatic tension or develop our sympathies for its characters and those people killed or left mourning by the sinking of the Titanic.
Reviewer: Keith Mckenna