Ghost Stories
Jeremy Dyson and Andy Nyman
Lyric Hammersmith
(2010)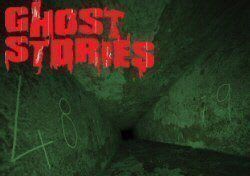 It's only just still the season for this type of thing. As the days get longer and the temperature inches away from paralysing cold, a ghost story seems in theory a less fitting prospect. That may be why the publicity images for this show steer clear of creepy Victoriana - instead it's random numbers chalked on dripping concrete, conjuring up more association with urban gorefests like the Saw films - and why the warning on the website - "We strongly advise those of a nervous disposition to think very seriously before attending" - makes us fear Derren Brown-style psychological manipulation rather than traditional chills. Or maybe that was just me. Co-director Andy Nyman is after all a long-time collaborator with Brown, and the director of all his most infamous stage shows and TV work.
I needn't have worried. This superb, phenomenally slick and technically outstanding show has a clever metatheatrical framework, yes, but what it delivers is essentially three ghost stories from the oldest of old schools. The setups couldn't be more classic: a nightwatchman in an abandoned factory that was once a mental asylum; a young man whose car breaks down in the woods in the middle of the night; an expectant father who perceives something strange happening in the nursery. It thoroughly has its cake and eats it, its framework being a professor of parapsychology giving us a lecture and taking us through these three tales only to dismiss them - but is there something more to his story too? Of course there is.
It allows Nyman, as the professor, to bring in some interesting philosophical discourse - about the nature of fear, but mostly about the nature of belief. How far is our fear of the supernatural due to our willingness to go the mental distance to believe in it? And why are we perversely attracted to it? - why, for instance, did we come to this show? "To play a game with that fear" is Professor Goodman's answer.
And boy what a game it is! My one quibble would be that it resembles many supernatural dramas which begin by resting in ambiguity - offering us possible alternative rational explanations, and leaving it to us to choose what to believe - and end by allying themselves firmly with the supernatural camp. So this, too, eventually leaves us in no doubt that it was all real. In a particular sense anyway - I mustn't say more. But unresolved ambiguity can often be the more interesting thing.
But this is not a night of metaphysical pondering. It's a thrill ride. The staging of the numerous "scare moments" is exemplary. Certainly not original - we normally know exactly what's coming, having seen such staples many times before - but that is what makes the tension so unbearable. The directors (Nyman, Jeremy Dyson and Sean Holmes) absolutely understand that 90% of the fear is generated by what we bring to the experience ourselves: our imaginations filling in the gaps; the intolerable build-up of anticipation before the shock. Jon Bausor's clever set adapts into a multitude of settings, but consistent throughout is the cavern of blackness at the back of the stage (which James Farncombe's brilliantly precise lighting serves only to make darker), from which anything may emerge.
David Cardy, Ryan Gage and Nicholas Burns all do good work as the subjects of the three stories - though they are often in half-darkness, and at times only have to hit their marks: the production does the rest. Nyman is mesmeric as the disintegrating professor; and even has a few nice Derren Brown-esque moments where his behaviour turns out to be not what it seems. One such moment at the end creates a sense of terrible circularity - of being trapped in a waking nightmare. At this point, to our great relief, we're let back out into the light.
Until 3rd April
Simon Sladen reviewed the West End transfer at the Duke of York's
Reviewer: Corinne Salisbury