Ghost Stories
Jeremy Dyson and Andy Nyman
Lyric Hammersmith, Phil McIntyre Entertainment, Liverpool Everyman and Playhouse
Duke of York's Theatre
(2010)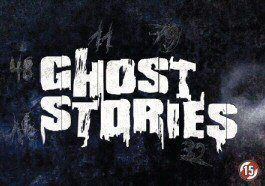 Legend has it that the ghost of Violet Melonette, one time actress and manager of the Duke of York's, haunts the theatre. Although she isn't currently making a scheduled appearance nightly, other ghostly ghouls occupy the stage as the Duke of York's hosts its very own Ghost Stories, last seen earlier this year in London at the Lyric, Hammersmith.
This is a production that does exactly what it says on the tin. Three ghost stories are told, although only one involves a ghost, and each one does exactly what it sets out to do: scare people witless.
The production is framed as a lecture on ghost stories by Professor Phillip Goodman. Played by co-writer Andy Nyman, Goodman is a cross between David Brent and Derren Brown. This comes as no surprise considering Nyman co-created many of Brown's stage shows and uses much of his expertise and knowledge in the field in this, his latest venture.
The script masterly weaves together three textbook horror stories that conclude in a clever ending. Sometimes long silences go on for a little too long, but they help to build the tension before something most dramatic releases it. Humour is also interspersed with the horror and nervous laughter can be heard throughout the 80 minute performance as audience members try to cover their fear and second guess at what is yet to come.
Ghost Stories successfully translates many well loved classic horror film sequences to the stage with the help of an impressive set and fantastic lighting design courtesy of Jon Bausor and James Farncombe. The narrative calls for quick scene changes to evoke completely different locations and this is achieved with great ease and slickness. Pair the scenography, not forgetting Nick Manning's sound design, with Scott Penrose's special effects and Ghost Stories well and truly puts the fear into theatre.
This production is an experience to rival The London Dungeons. With the summer holidays just around the corner, the new resident at the Duke of York's will most definitely attract those GCSE and A-Level students looking for theatrical thrills. Ghost Stories does carry a warning and is recommended for those over 15 years of age, but this only helps to establish a sense of fear and trepidation around the production. Cleverly Ghost Stories has you scared even before you step foot in the theatre and when the threshold is finally crossed, the new surroundings and spooky sounds of the foyer and auditorium help to further establish a sense of nervousness and fear at the unknown ahead.
With the air conditioning on full blast, there seems to be a constant ghostly chill in the auditorium. Screams of delight and distress from the stalls prove that Ghost Stories is one theatrical experience which will haunt many an audience's memory for years to come.
Booking until 7th November 2010
Reviewer: Simon Sladen