Gilgamesh & Me
Richard Fredman
Babolin Theatre
Paradise in Augustines
–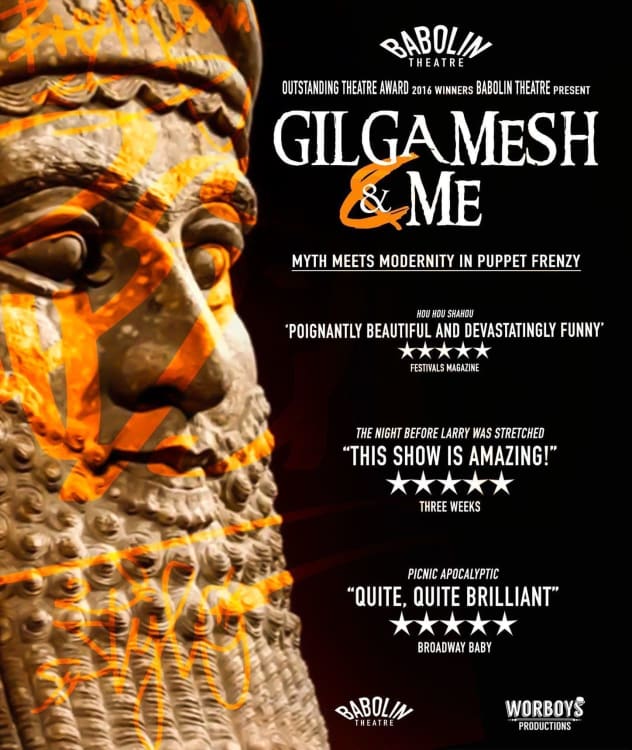 Babolin Theatre has a brought a new show to the fringe for well over a decade, their standards have never slipped, producing hit show after hit show, despite the youth of their cast who, being A Level graduates of Hills Road (Cambridge), is never the same from one year to the next.
Gilgamesh & Me doesn't disappoint, delivering the kind of on-point ensemble work that many more seasoned professionals would be proud of.
Richard Fredman's witty adaptation of the Sumerian legend of Gilgamesh and Enkidu is given a postmodern bromance twist that mixes the archaic with the contemporary in verse and song, which the young cast deliver with boundless enthusiasm, matched only by their focus and unwavering commitment to detail in each moment.
Each section of the story is given a fresh treatment, providing us with shadow puppets, a giant bull and an apparently limitless range of uses for brown paper, which continues to bring the story to life in inventive new ways.
The versatile company celebrate each set-piece, proving consummate musicians, singers, puppeteers and character actors as the action on stage shifts seamlessly from a party to the heavens and from a battle with ogre to a visit to the underworld. All delivered with joyous gusto by this exceptional young ensemble.
Reviewer: Tony Trigwell-Jones