Girl from the North Country
Conor McPherson, music and lyrics by Bob Dylan
Tristan Baker and Charlie Parsons for Runaway Entertainment and The Old Vic
Curve Theatre, Leicester
–

Listing details and ticket info...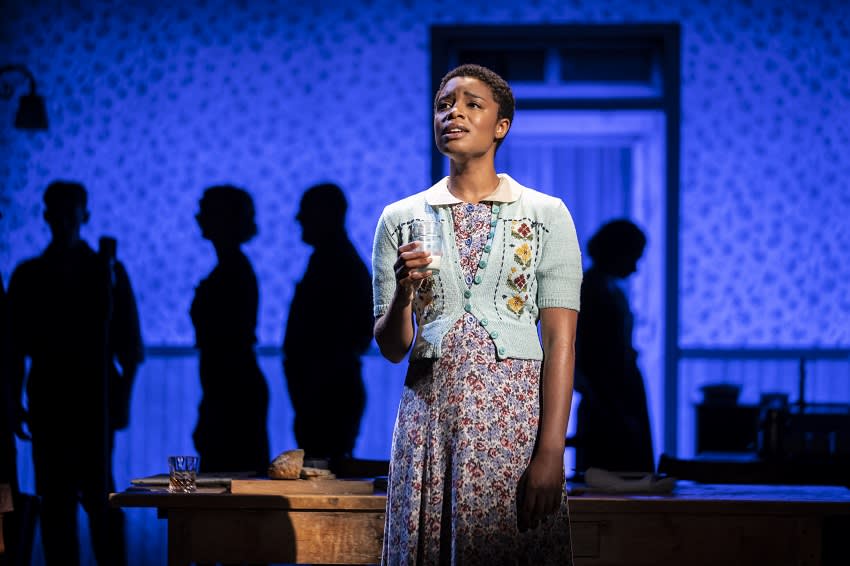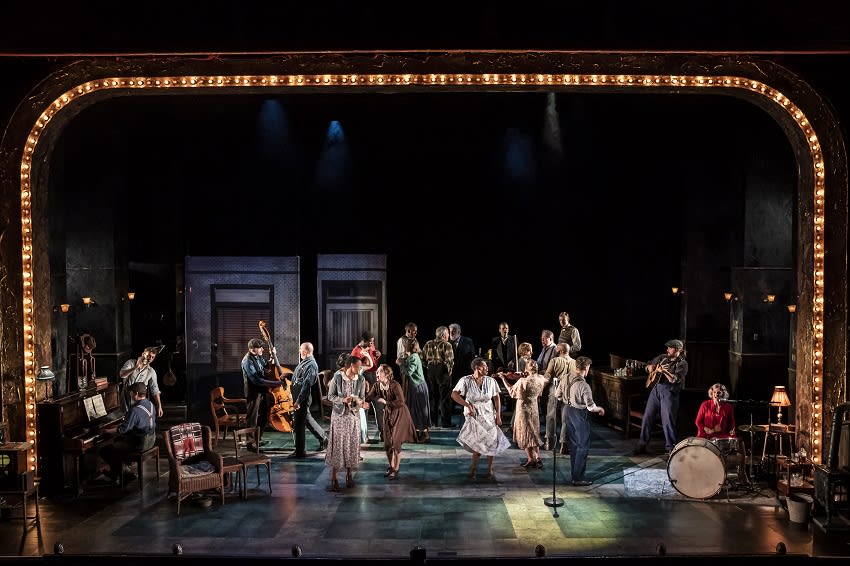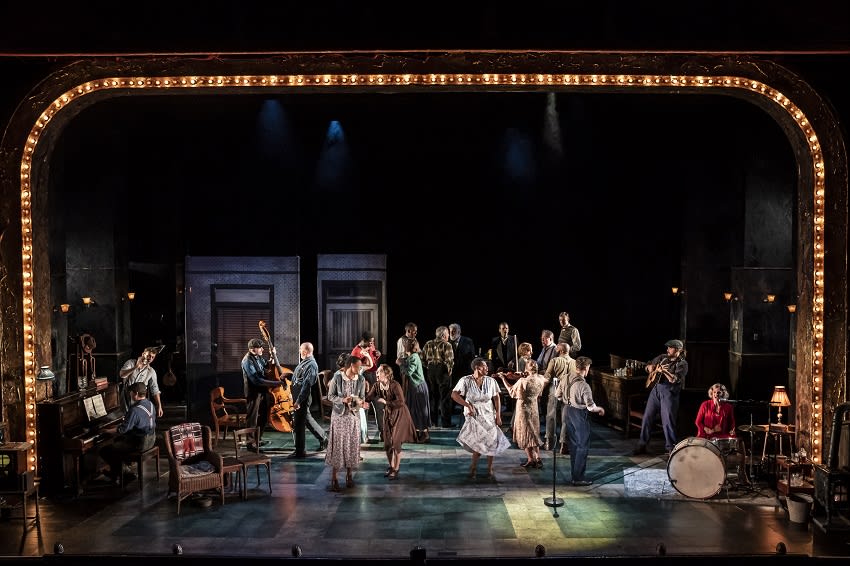 In the programme notes, writer and director Conor McPherson describes Girl From the North Country as "a conversation between the songs and the story". Having received a package of 40 Bob Dylan albums (sent to him by Dylan), McPherson has woven around 20 songs into the narratives of a similar number of characters who congregate at a Depression-era guesthouse in Dylan's birthplace of Duluth, Minnesota.
This is not a jukebox musical, nor do the songs drive the story forward through the usual conventions of the genre. Instead, Simon Hales's gorgeously harmonic orchestrations and arrangements complement McPherson's vignettes. This approach allows appreciation of the lyrics and the songs themselves, with space to reflect on the characters' motivations.
Rae Smith's set design features a large, tarnished-looking proscenium arch which frames the stage, reminiscent of a radio set of the period. A handful of flats depicting doorways and windows descend to depict different rooms and scene changes, with black and white landscape shots from Duluth projected on backdrops. Substantial wooden furniture is moved by the cast.
The Laine family form the focal point of the various stories, with Nick Laine (Colin Connor) and his wife Elizabeth (Nichola MacEvilly) running the guesthouse, months away from foreclosure. Elizabeth also requires constant care due to advanced dementia, their son Gene (Gregor Milne) is an aspiring but ultimately unsuccessful writer, and their adopted daughter, Marianne (Justina Kehinde), is pregnant, apparently abandoned by the father whom she won't name.
The guesthouse is a gathering point for people on the move, whether that is looking for work, a better life or escaping something in their past. Boxer Joe Scott (Joshua C Jackson) has been in prison for a crime he didn't commit, the Burke family are chasing debtors and escaping creditors, Dr Walker (Chris McHallem) acts as an occasional narrator, filling in some of the gaps, but what I liked about this show is the slowly unravelling threads of stories, the possible motives, the unfinished business; the Chekhov's gun moment surprised me with its later denouement. Ultimately, these are desperate people hoping for something better, and while that could sound relentlessly depressing, the music provides emotional power and lift.
Mood is also enhanced by Mark Henderson's lighting design, various tableaux lit in silhouette.
The excellent on-stage band The Howlin' Winds are enhanced by cast members also accompanying on different instruments, and overall, it is the soaring musical score and performance that lift this production into a really satisfying theatrical experience. Vocal performances throughout the cast are superlative and hard to single them out, however, MacEvilly's performance in "Like a Rolling Stone" is stunning, Gregor Milne makes an impressive professional debut, particularly in "I Want You", and Kehinde is a compelling and powerful presence as Marianne.
Currently on a UK tour, this production is well-worth your time, no matter whether you're a fan of Dylan's music. The arrangements fit well into the period setting but also achieve a timeless feel, another of McPherson's objectives when creating the show. His direction is paced well, and while these characters are living transient lives and not always giving much away themselves, the couple of hours in their company is an enjoyable experience.
Reviewer: Sally Jack