Girl from the North Country
Conor McPherson, music and lyrics by Bob Dylan
Old Vic Theatre
Noël Coward Theatre
–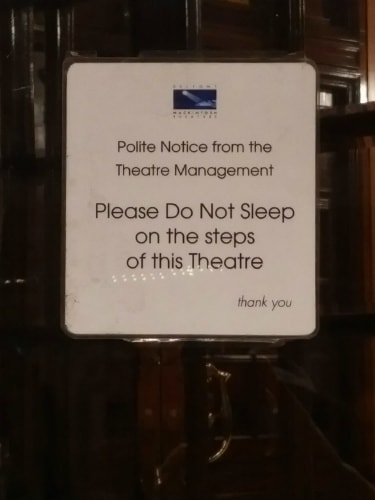 The Noël Coward Theatre tries to get into the spirit of Conor McPherson's American Depression era show Girl from the North Country which opens with the song "Sign in the Window" by posting a notice asking the homeless not to sleep in its doorway.
The drifters and the doomed who cram into the Duluth, Minnesota boarding house depicted by McPherson are restless troubled and riddled with guilt. Their stories are interwoven with songs by Bob Dylan given a soulful melancholy arrangement by Simon Hale.
The plotlines are intriguing if never quite followed through, the music is pleasant though lacking the early Dylan's political fire, and the dialogue is always interesting if lacking development. The acting is faultless and the singing superb. Even the lighting is so exquisitely painterly you could take a picture of almost any scene and mount it for admiration in one of London's great restaurants.
Unfortunately all this is linked together by the narrow theme of romantic melancholia. Beyond the melancholy mood, the songs never develop character or plot, they simply slow it down. It's as if a commercial religious company decided to extend the play's running time by the insertion of lots of advertisements for its spiritual message.
However the wonderful music gives you time to ponder the plotlines that keep appearing and then simply vanishing. Nick (Cieran Hinds) the proprietor of the lodging house might be preparing to run off with a wealthy widow or maybe he is going to kill himself. His wife Elizabeth (Shirley Henderson) driven by an intense nervous energy is supposed to suffer dementia that may or may not have any symptoms. Was she sexually abused by the elderly cobbler Mr Perry?(Karl Johnson) And why is she hearing that girl down a hole?
Who raped her daughter? Whatever happened to the blackmail threatened by the roving preacher? Was one of the characters murdered? What is the explanation for the surprise thing that happens to the doctor (Adam James) on Christmas Eve 1934?
Perhaps the show is meant to be just an entertaining collage Americana pasting its influences together irrespective of any connection and in so doing taking in so many great American stories.
The show is set in a boarding house reminiscent of that in Eugene O'Neill's The Iceman Cometh. It is framed by Dr Walker, an escapee from Thornton Wilder's Our Town, and there is even a physically strong youth with the mental abilities of a small child who, like Lennie in Steinbeck's Of Mice and Men, may have attacked a girl.
None of this has to matter if the show entertains and it does. It has the gentle relaxing feel of a warm bath. But it isn't the American Depression, it isn't substantial, and it can show bad judgement.
When a simple fellow is pronounced dead, no one has a moment to mourn because he suddenly appears dressed in a sharp white suit like an old time preacher to deliver a rousing gospel song.
But perhaps the most disappointing of the quirky bits is a rare moment of happiness for the characters as they danced joyously at Thanksgiving to a fun version of Dylan's "Hurricane" which was formerly a campaigning protest song against outrageous injustice.
Even the depiction of the setting stretches belief. Was Duluth 1934 so multicultural that Nick could run an ethnically mixed boarding house and adopt a black baby, a white man could travel with a black man and during a dance nobody would look remotely surprised that a white married woman dances with a black man and praises his muscles?
But the period and the place are a gesture. If any social issue gets a mention, it is ornamental and even then secondary to a mood of doomed melancholia.
The show is entertaining. I want to see it again. But despite the brilliance of its cast and crew it has no heart, no real concern for those who suffer an unjust world, and that given its subject is a missed opportunity.
Reviewer: Keith Mckenna