Girl From The North Country
Book by Conor McPherson, music and lyrics by Bob Dylan
Runaway Entertainment, Sony Entertainment, Playing Field, David Mirvish, Dianne Roberts and The Old Vic
The Lyric, Theatre Royal Plymouth
–

Listing details and ticket info...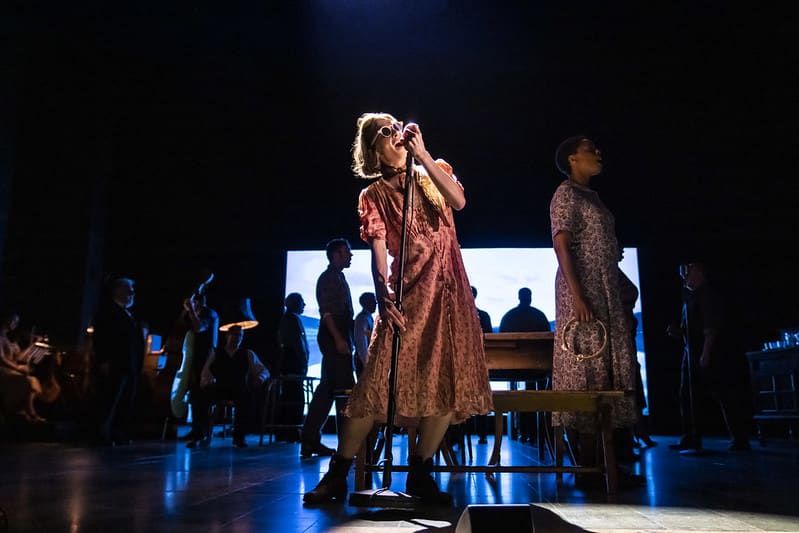 There are hard times and mixed-up confusion down in Duluth, Minnesota, birthplace of iconic poet / musician Bob Dylan and the setting for Conor McPherson's world gone wrong Depression-era back catalogue musical with a difference.
Rae Smith's set screams downtrodden and shabby with peeling paint, ponderous paintings and incoming flats of endless highways, icy lake and 1930s mundane.
Winters are seven months long, time passes slowly and everything is broken: once-feisty, solid rock and tough mama Elizabeth (a tremendous and convincing performance from Frances McNamee) has lost her mind, her filter, her dignity and her grip on her rambling guesthouse as husband-haunted-by-his-past Nick (Colin Connor: War Horse and TV soaps) has the money blues and sees nothing but an eternal circle of trouble and desolation row (and chicken stew) ahead as times they are a-changin'.
Teenaged adopted daughter Marianne (Holby City's Justina Kehinde) is unmarried, pregnant by a nameless night-time visitor and being courted by the ancient Mr Perry (the ubiquitous Teddy Kempner) who may offer a secure future but too much of nothing else. Wastrel would-be writer brother Gene's (Gregor Milne, an impressive stage debut) shot of love is heading down the highway to marry a less belligerent safer bet, while gentle GP with a habit Dr Walker (Chris McHallem) narrates and is fixin' to die.
The rundown hotel is stuffed full to bursting night after night with hapless lodgers harbouring a dismal backstory: widow awaiting a payout and expecting more Mrs Neilsen (Maria Omakinwa whose "True Love Tends To Forget" is heartfelt) can't help falling in love again; the Burke family with a secret and a forever young autistic son (Ross Carswell spot-on in his professional debut) plus a versatile talented ensemble of others.
In a simple twist of fate, a wanted man (Eli James One Man Two Guvnors, Gossip Girl) with trouble in mind, stolen dollars in his pocket and Bibles for sale, and the unfairly imprisoned boxer Jungle Joe Scott (Autopsy's mellifluous Joshua C Jackson)—cue a truncated "Hurricane"—join the throng and things are never gonna be the same again.
So many tragedies, so little time and so many threads left blowing in the wind, the story is oddly interesting but rather pedestrian, predictable and unengaging. Actors are spot-on and there are standout performances (McNamee in particular and her "Like A Rolling Stone" is stunning) but otherwise we don't much care—or can guess—what happens next but Simon Hale's music treatment is superb.
Under the tight direction of pianist Andrew Corcoran, The Howlin' Winds' violin, mandolin, guitars and double bass are bolstered by myriad instruments played by the cast as old-style radio show microphones bring singers to the front of stage with backing vocals silhouetted or clustered and percussive. Twenty (with a few others shoehorned in as medleys) reworked Dylan hits spanning all but 50 years ("Sweetheart Like You" 1963 to 2012's "Duquesne Whistle") are glorious and, dare I say, perhaps better than the original gritty-vocals?
"Forever Young", "Is Your Love In Vain?", Kate and Gene's "I Want You", "Make You Feel My Love" and more are given fresh depth and passion and, when coupled with Lucy Hind's choreography, are worth every penny of the ticket price.
Despite its faults, well worth a look / listen.
Reviewer: Karen Bussell