Girl from the North Country
Book by Conor McPherson; music and lyrics by Bob Dylan
Tristan Baker & Charlie Parsons for Runaway Entertainment, Steven Lappin, Sony Music Entertainment UK, Playing Field, David Mirvish, Dianne Roberts and the Old Vic
York Theatre Royal
–

Listing details and ticket info...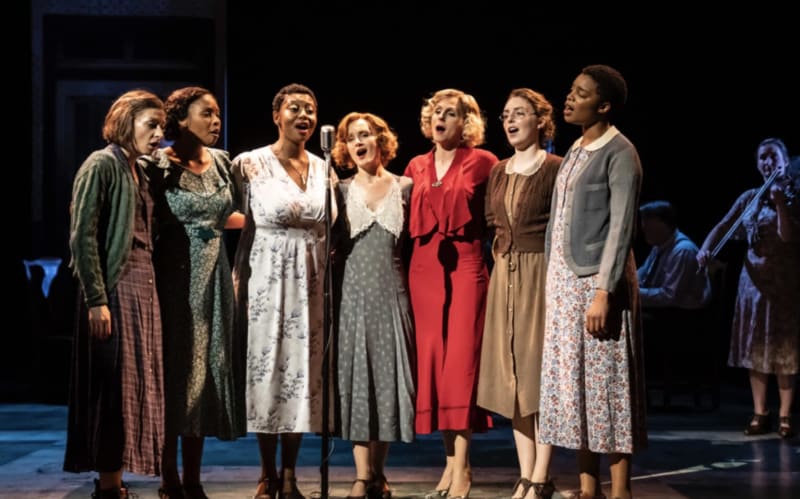 What a rich and singular piece of work Girl from the North Country is. Combining the playwriting talents of Conor McPherson with the songwriting skills of Bob Dylan, this strange and beguiling show has the dramatic heft of America's greatest playwrights (Eugene O'Neill, Clifford Odets, Thornton Wilder) and showcases the depth and range of a musician who is widely regarded as the world's pre-eminent lyricist.
Set in Duluth, Minnesota (Dylan's birthplace) in 1934, Girl from the North Country focuses on a group of people struggling to weather the storm of the Great Depression. However, while the musical pertains to a particular historical moment, it also reflects contemporary anxieties about the future. I guess some things never change.
Nick Laine (Colin Connor) and his wife Elizabeth (Frances McNamee) are the owners of a boarding-house populated by damaged souls, and over the course of the musical we learn about these characters and their thwarted lives. The bank is threatening to foreclose on the boarding-house, and the sense of inexorable decline which pervades the show imbues it with a Chekhovian melancholy.
When the characters sing in unison, there is some sense of communal togetherness. For much of the show, however, the characters appear isolated from one another, each one struggling to deal with their own personal demons. For Elizabeth, it is the slow torment of dementia, which sees her oscillating between numb detachment and outbursts of violence. In the case of Mr and Mrs Burke (James Staddon and Rebecca Thornhill), it is the aftermath of losing their business and the daily grind of looking after a grown-up son with the mind of a child.
To summarise the various challenges faced by the characters would take too long, but suffice to say that the musical features adultery, unrequited love, alcoholism, two ex-convicts and a struggling writer.
Although Conor McPherson draws upon familiar dramatic archetypes within Girl from the North Country, he succeeds in avoiding cliché by applying the same powers of psychological penetration he brought to plays such as The Weir and The Seafarer. Having so many characters and storylines in one musical could have resulted in an overpopulated hodgepodge, but McPherson does a fine job of interweaving his protagonists' lives.
Often in jukebox musicals, pre-existing songs are hammered together to form some kind of crude narrative. McPherson has wisely chosen to avoid this approach. Instead, Dylan's songs are used to reflect the inner lives of the characters, and the results are often stunning. I was particularly dazzled by Frances McNamee's spine-chilling rendition of "Like a Rolling Stone", during which she strutted across the stage with rock-star swagger.
I must confess that prior to watching this show I had mixed feelings about Bob Dylan. In truth, this is largely due to his nasal voice, which I have often found exasperating. However, watching this talented ensemble perform his songs with such verve and feeling has inspired me to re-investigate his lengthy back catalogue.
I have already referred to Frances McNamee, but her excellent performance is only one of many. Colin Connor powerfully conveys the frustration of Elizabeth's stressed-out husband. Gregor Milne brings a poignant sense of squandered potential to the role of Gene, the Laines' alcoholic son, and he performs a moving rendition of "I Want You" with Eve Norris (also very good). Justina Kehinde gives a beautifully understated performance as the Laines' adopted daughter Marianne, communicating the powerlessness of women (particularly black women) during the 1930s. Overall, the ensemble is consistently superb.
I was deeply impressed by Conor McPherson's direction, particularly during the crowd scenes which convey the hustle and bustle of a teeming boarding-house. Rae Smith's costumes and set designs are richly evocative, transporting the audience to a bygone era.
Girl from the North Country has a depth and seriousness which marks it out from the vast majority of jukebox musicals, and I have no doubt that it will linger it my mind for a long time to come.
Reviewer: James Ballands