Girls Night
Louise Roche
The Gala Theatre, Durham, and touring
(2011)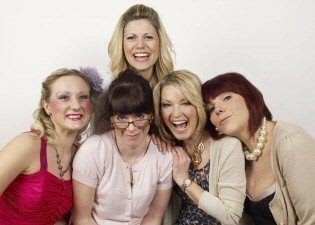 I'm becoming accustomed to being only one of a sprinkling of men in the audience now. Having already had the dubious honour of reviewing The Vagina Monologues, Women on the Verge of HRT, Hot Flush!, Menopause the Musical, Mum's The Word and The Naked Truth, I can now add Girls Night to the ever-increasing list of productions aimed at a predominantly female audience.
Louise Roche's comedy-musical follows the lives of four friends as they gather to celebrate the engagement of Candi-Rose, the daughter of another friend who died 22 years ago in a motorcycle accident. Little do they realise that their deceased mate, Sharon (Serena Giacomini) is watching over them as a rather unconventional guardian angel!
The plot sees the four friends, Carol (Gillian Taylforth), Liza (Rebecca Wheatley), Anita (Katie Paine) and Kate (Lizzie Frances) meet in a nightclub for an evening of Karaoke, drinking and reminiscing and also provides the perfect opportunity for the cast to belt out a succession of girlie anthems including 'Young Hearts Run Free', 'I'm Every Woman', 'I Will Survive', 'I Am What I Am' and 'We Are Family'.
Kate Unwin's set design, complemented by Kris Box's lighting, sets the scene well and effectively recreates the look and feel of a nightclub. However, Colin Ashman's sound tended to be over-amplified on occasion and drowned out some of the singing.
The cast is comprised of actresses who are also great singers and even Gillian Taylforth, a performer who is not usually associated with singing, delivers a very respectable version of 'We Don't Cry Out Loud', despite a slight lyrical mix-up.
Although Girls Night won't ever set the theatrical world alight, it is a crowd-pleasing concoction of Karaoke classics that does what it says on the tin.
Runs until Saturday 25 June 2011.
Reviewer: Steve Burbridge