Girls' Night Out
Dave Simpson from an idea by Paul Farrah
Journal Tyne Theatre, Newcastle, and touring
(2010)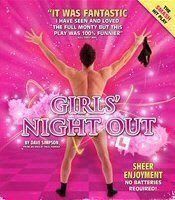 There is little doubt that Dave Simpson's play Girls' Night Out is already a success and there is an audience eagerly awaiting the new national tour. But while the play was written before The Full Monty, you cannot help comparing the two, as they both centre on the world of male strippers.
The story revolves around a hen night, with the bride-to-be about to give birth at any moment. At the party are her best friend, sister and aunt. As the alcohol flows, secrets start to emerge which are to have a devastating effect on all their lives. Although it would be unfair to reveal any as they are central to the story, a lot of humour hangs on them.
Meanwhile, a group of male strippers are preparing for their act and with two new members in the four man team - the nice but dim, Tony (Ian Sharp) and Pete (Harry Capehorn) - rehearsals are not going too well. Also the new members have not told their families what they are doing or that they have signed up to spend the summer stripping in Ibiza, but you know they will find out.
When it comes to the time to perform the guys prepare to strut their stuff in front of the eager audience in the night club but it is only when they are well through their routine and Tony has revealed almost everything that his girlfriend recognises him and the worlds of the hen night and strippers collide.
This is an ideal production for a girls' night out and the groups of girls around us were ready to party and enjoy themselves from the start. As soon as the first beat of any of the familiar songs started, they were clapping and singing along, even after the music had finished.
The story is fairly thin, although the audience do not seem to care, and no doubt the first half, which seemed over-long and took a while to get going, will tighten up as the tour progresses. The strip routines are well choreographed by Tracy Lane. While Simon Scullion's designs are clever and inventive, they do slow the action down as the cast convert the set between the dressing room and nightclub scenes on several occasions. Ian Horrocks-Taylor's sound design was excellent and you could not help but be carried along by the pulsating beats of pop music as they belted out during the strip routines.
This production will not offend anyone and, while the few men in the audience still found it amusing, it is aimed at parties of girls and fully delivers on that score.
Reviewer: John Dixon