Give Me Your Love
David Woods and Jon Haynes
Ridiculusmus
Battersea Arts Centre
–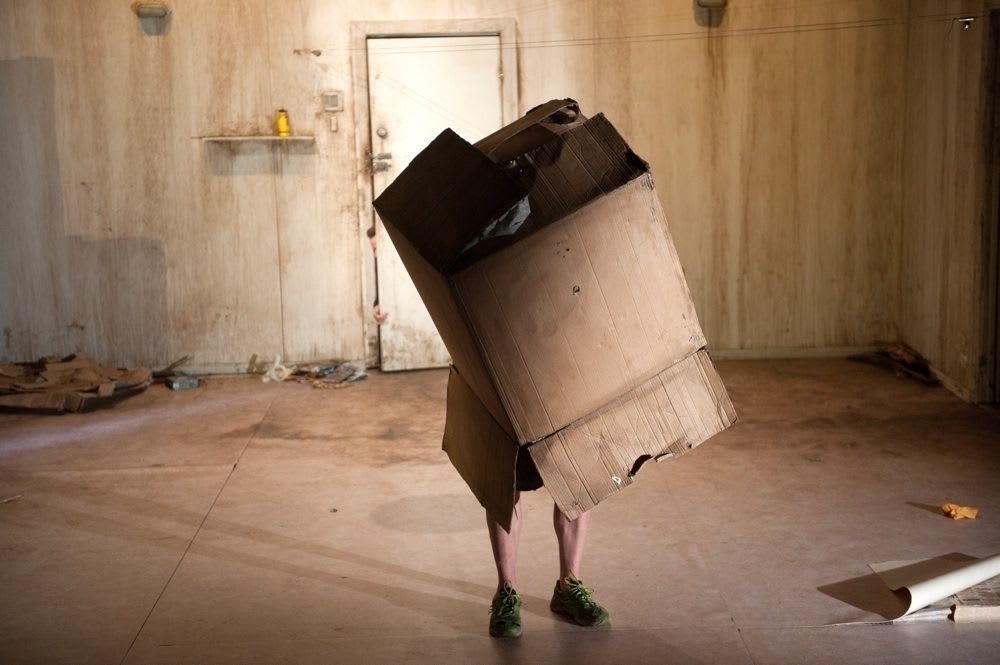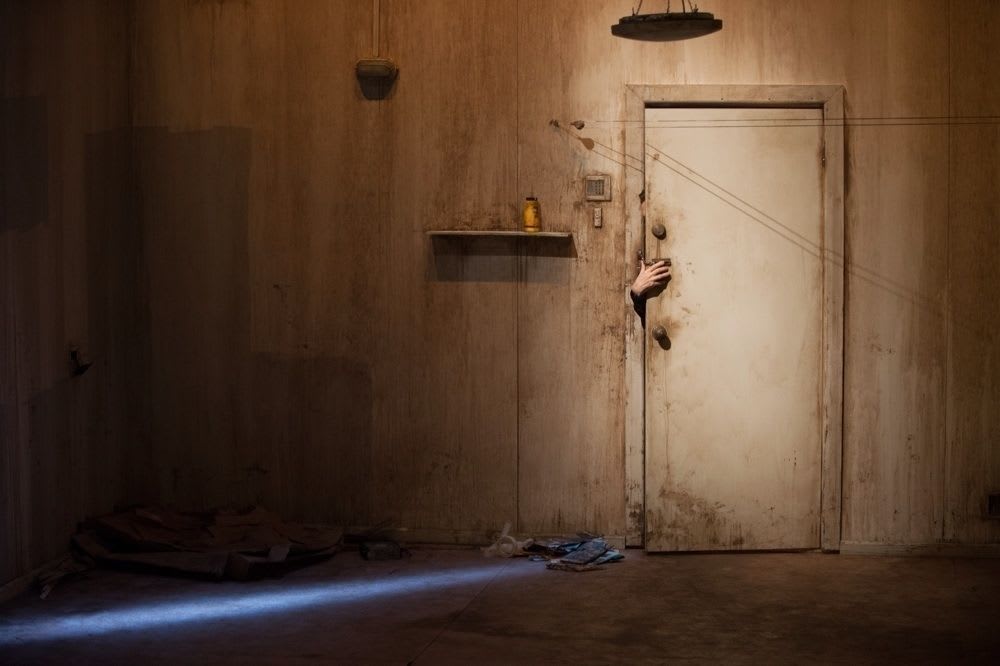 Give Me Your Love from theatre company Ridiculusmus is a short play for three voices and a large, occasionally animated cardboard box.
It begins with a striking theatre set of brown-stained metal walls to a room without windows. There is one door locked with two chains and another off to the side that is open. We assume it leads to some other part of the house. The room is empty apart from pieces of cardboard in the corner and towards the centre a huge cardboard box within which sits a man.
The first section of the play could have been the beginning of a light situation comedy. The Welsh former soldier Zach Williams (David Woods) sitting in the box claims he is suffering from post traumatic stress disorder (PTSD) and chats naturalistically with his wife whom we never see but whose voice we hear from offstage.
We laughed at Zach's reactions to her suggestion that she might also be in a cardboard box, at their comments about Cardiff and at their squabble over the value of Zach taking the mind-altering drug Methylenedioxymethamphetamine (MDMA).
Unfortunately, the humour fades and there is no substance to anything that has been raised. We are simply left with a man we never see beyond the occasional sight of his legs sitting in a cardboard box. The visit of a mate (Jon Haynes) with the drug Zach craves who can't get past the chained door adds little more to the performance.
There is no doubt that PTSD is a serious issue. Among soldiers, that and depression can combine with a complex range of other health issues, such as pain, loss of limb and alcohol or drug abuse. Health professionals continue to argue about the value of MDMA in helping to deal with PTSD.
Unfortunately, this play doesn't say anything beyond Zach's claim that he is suffering PTSD and that he has heard on CNN news that MDMA might be useful in dealing with it.
Even the little we are told is suspect since Zach is a very unreliable source. Various things happen in the play which makes us wonder if we are simply watching Zach's imagined conversation with his wife and friend. Indeed, even Zach's claim to have been a soldier may be a part of his delusion.
The show needs to become a genuinely light, insubstantial situation comedy by extending the humour or it needs to find a way of saying something substantial about the issues it merely referenced. If it doesn't do either then we are left with that striking image of a man in a box in a bare room, and that makes a very short play seem very, very long.
Reviewer: Keith Mckenna