Glamour
Stephen Lowe
Nottingham Playhouse
(2009)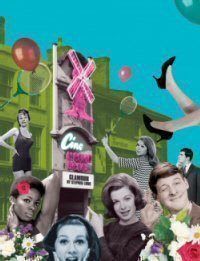 Throughout its 60-year history Nottingham Playhouse has regularly given aspiring playwrights an opportunity to present their work on what's become a major provincial stage.
Willis Hall, David Hare, Howard Brenton and Ken Campbell were given the chance to showcase their work in Nottingham, as was Stephen Lowe. The local writer's big break came in 1977 when the then artistic director Richard Eyre directed his play Touched.
Three other Lowe plays have graced the Playhouse stage, the most successful probably being his clever comedy about Brian Clough, Old Big 'Ead in The Spirit of the Man, in 2005.
Now Glamour, Lowe's comedy about love, lust, fantasies and gangsters, gets its world premiere in the theatre where his career first took off.
Set in the 1960s, Glamour transports the audience back to the heyday of the Moulin Rouge - not the Paris nightspot but a seedy, dingy Nottingham cinema.
It tells the story of 18-year-old Jimmy Potter, a filmmaker with ambitions to follow in the footsteps of the great film directors of his day.
Moulin Rouge owner Frank Partridge arranges a screening of Jimmy's Blue Movie for some London hotshots. But two notorious gangsters also appear - and several lives are threatened as relationships are strained to breaking point.
The play is based on Lowe's experiences as he actually made a film called Blue Movie in 1966.
Really the title is a bit of a misnomer as there's little glamour in the Moulin Rouge. Frank, who claims to have discovered Michael Caine and persuaded him to change his name from Maurice Micklewhite, wants to give his punters razzle-dazzle, but the nearest they get is the cardboard cutouts of film stars which adorn Frank's office.
Glamour is a solid piece of writing which has its moments of tension and electricity as well as humour.
There's an excellent cast in Bill Alexander's gritty production.
Shaun Prendergast is superb as misguided yet likeable Cockney Frank who has seemingly insurmountable problems in both his business and private relationships.
When he discovers who his unexpected guests are, he's more distraught than a banker who's told he's not going to get his regular bonus.
Tanya Myers as Frank's wife Connie displays a whole range of emotions from desire through shock to fear as it's revealed she's had a very eventful past.
There are also strong performances from Michael Socha as filmmaker Jimmy; Melissa Simpson as his girlfriend Beatrice who slowly sheds her inhibitions as well as her clothes; James Scales as Irishman Paddy, another character with a hidden side; and Gary Turner as singer Gary Goodman who has the unenviable job of trying to please the cinema's difficult guests with his limited repertoire of songs.
Film sequences of footage from the 1960s and new, specially shot material combine with music from the period to create just the right atmosphere.
In recent years Nottingham Playhouse has taken bold decisions to put on some of the new plays which have found their way onto its stage; there've been failures as well as successes. Glamour sits right in the middle: it contains some excellent characters but the plot is a little flimsy, especially in the first half, for it to be unforgettable. Yet Glamour has a certain allure which means you're guaranteed a reasonable evening's entertainment.
"Glamour" continues until February 21st
Reviewer: Steve Orme