The Glass Mountain
Anna Reynolds
Trestle Theatre Company
The Tobacco Factory, Bristol, and touring
(2009)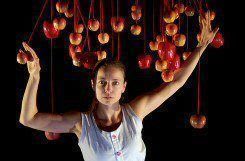 Under artistic directorship of Emily Gray, Trestle have branched away from the mask work for which they were once renowned and have engaged in a series of international collaborations.
The Glass Mountain is the latest show in this vein, weaving a classic Polish folk myth with very modern tales of life, love and European migration. Running through the heart of Trestle's collaboration, and of this production, are the physical and vocal traditions of Polish theatre.
The cast of four (Jacek Wytrzymaly, Lenka Rozehnalova, Sean Garratt and Kate Lush) give strong, versatile performances, using Polish and English dialogue as well as mime, chant and the harsh, discordant vocals reminiscent of the Polish theatrical tradition.
The classic fable tells of an over-protective parent, a King, determined to secure nothing but the very best future for his only daughter and, in the process, all but condemning her to a life of misery and torment. Mirroring the myth is the tale of Olek, love-stricken and set on a securing a bright future in England for himself and his young lover.
This is an intriguing and well imagined production, with clever design, arresting physicality and plenty of quirky Eastern European humour. For instance, particularly memorable was the Priest who regularly makes the coach trip from Poland to the ferry ports in order to persuade his fellow travellers to make their confession, as, "some people can only confess between countries".
Ultimately however, there is an over-earnestness about this production. Great physicality and arresting Eastern European discordant choral vocals (if delivered with pitch-perfect precision, which isn't always the case here), are undoubtedly powerful tools where they are blended seamlessly into the storytelling.
The problem here is that there are too many instances in which these devices feel artificial and intrusive, rather than heightening the impact of the drama they are supposed to serve. The result is that the chanting at times threatens to irritate and the physicality interferes in places with the plot development.
Consequently that the potential of this piece is not entirely realised.
"The Glass Mountain" tours to Luton, Scarborough, Liverpool, Salisbury, Cirencester, Hereford, Frome, Bath, Wakefield, Jersey and Colchester
Reviewer: Allison Vale