The Glass Slipper
Stephen Sharkey, music by Sam Kenyon
Northern Stage, Newcastle
(2011)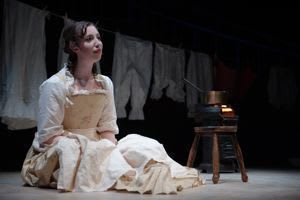 For this retelling of the Cinderella story, Stephen Sharkey has gone back to the 18th century Charles Perrault version of a tale which is found throughout the world in around 500 different versions. He changes the setting from France to Newcastle and Alnwick (for the ball), brings in George III (Ian McLaughlin) and introduces the hot air balloon craze of the period.
He tries to distance the piece from the panto version which everyone knows. The sisters, for example, are not ugly but vain and very selfish (as in the Perrault story) and they and their mother are—horror of horrors!—Londoners full of contempt for the barbaric northerners among whom they find themselves.
The show opens with the death of our heroine's mother Isabella (Ann Marcuson), the wife of a Newcastle glassmaker, as she holds the baby Ella in her arms, whispering to her that, although she must now leave her, if Ella needs her in the future calling on her name will bring her to her aid.
We then jump forward some twenty or so years when Ella (played by Laura Riseborough), whose father is constantly travelling on business, is a teacher of music to the children of the local gentry, helped by her friend Tom (Dylan Edge): a happy life which is about to be turned upside down by the arrival of her new step-mother Augusta Snifflewick (Bev Fox) who has married her father in Baden-Baden, along with her two daughters Charlotte (Naomi Cranston) and Euphronia (Giovanna Ryan).
Ella is banished to the kitchen, Tom driven from the house and so the old story progresses. Ella does go to the ball, aided not by a fairy godmother but by the ghost of her mother who emerges from a picture frame, and not in a pumpkin turned into a coach but in a hot air balloon which naturally attracts the attention of King George's nephew Price Hubert of Greater and Lesser Krakerwitz-Coburg (Will Featherstone), who happens to be a balloon fanatic.
Everything, of course, turns out right in the end and everyone lives happily ever after.
The show has a lot going for it—beautifully detailed and accurate period costumes by Angela Simpson, a set of impressive grandeur, appropriate and well performed period music and song by Sam Kenyon—but it fails to quite hit the mark.
It doesn't seem to have quite shaken off the panto. For example, the singing of Ella's pupils in the first act is not just bad but ridiculously excruciating; the step-mother's and sisters' ball gowns tend much more towards the OTT panto dame than the historic realism of the rest; there is an admittedly delightful but out-of-place piece of puppetry with a white mouse; the frequent changing by the sisters of Ella's name (Cinder-ella, Loser-ella and so on) is so anachronistic—the carefully established realism of situation, dialogue and acting is subverted too often.
I loved Ian McLaughlin's King George but it was a comic panto-esque performance, full of nods and winks towards—and even direct addressing of—the audience. One felt he was in a different production!
No criticism here of the performers: they are working with a script which doesn't seem to know quite what it is, neither a morality play, a drama or a panto but a mixture of all three.
"The Glass Slipper" runs until 7th January
Reviewer: Peter Lathan