Glengarry Glen Ross
David Mamet
ATG, Act Productions and Glass Half Full Productions.
Everyman Theatre, Cheltenham
–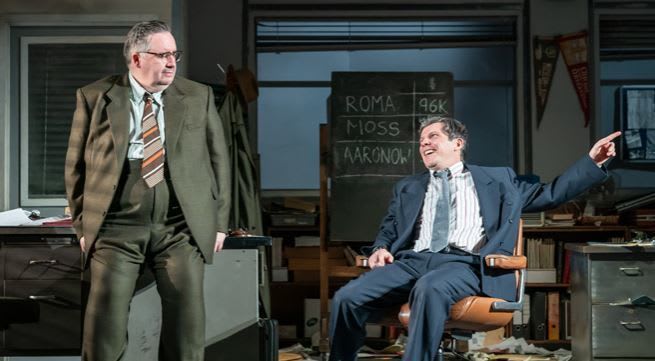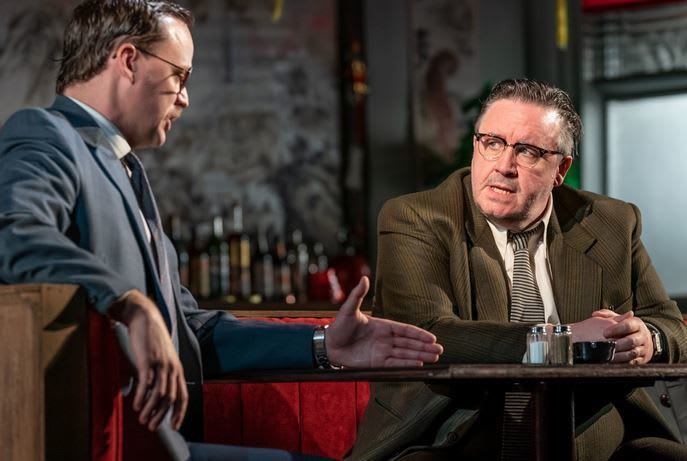 It has the tragic poignancy of Death of a Salesman, the chicanery of Barry Levinson's Tin Men, but David Mamet's savage indictment of amoral American capitalism is a more brutal piece of work altogether.
It's Chicago, 1982, where salesmen are trying to offload dud properties in Glengarry and Glen Ross to people who cannot afford and do not want them.
An extra scene that Mamet wrote for the film makes it clear that, as an extra incentive, the firm's boss has promised that one guy hitting $100,000 gets a Cadillac and two others the sack.
But bigger than any bonus are the male egos in this feral world of psychological manipulation called sales technique, of hypocrisy, of ruthlessness and multiple betrayals.
The first act takes place in a Chinese restaurant: the once-successful Shelly Levene pleads for better sales leads from Williamson, his unfeeling boss, and the new hotshot Roma mesmerises a chance acquaintance into a deal that the latter immediately regrets.
Between these two short scenes, Denis Conway, as the embittered Moss, tries to persuade a new colleague to break into the office to steal details of the best potential clients.
The dialogue is dynamite, foul-mouthed and racist, the aggression relentless—and the staccato delivery does not always allow for character differentiation—but the action really comes together in the second half with the consequences of the break-in.
Mark Benton is superb as Levene, a rubber-bodied figure with a puckering face that seems to deflate in humiliation, but who shows the man he once was, bouncing with the footwork of a boxer when he eventually lands a deal.
Nigel Harman's smiling, camel-coated Roma has the slick tricksiness of a wolf—"there is no measure, only greed"—and Denis Conway does a force 9 in angry vituperation.
One feels nevertheless a reluctant sympathy for these horrible people, themselves victims of a system that equates material success with manliness and in a society where Levene's troubles at least partly derive from being unable to afford his daughter's hospital bills.
Death of the salesman? Has this aspect of America changed much from the days of Willy Loman and Shelly Levene to The Apprentice and Donald Trump?
Reviewer: Colin Davison