Glengarry Glen Ross
David Mamet
Ambassador Theatre Group, Act Productions, Glass Half Full Productions and Rupert Gavin
Opera House, Manchester
–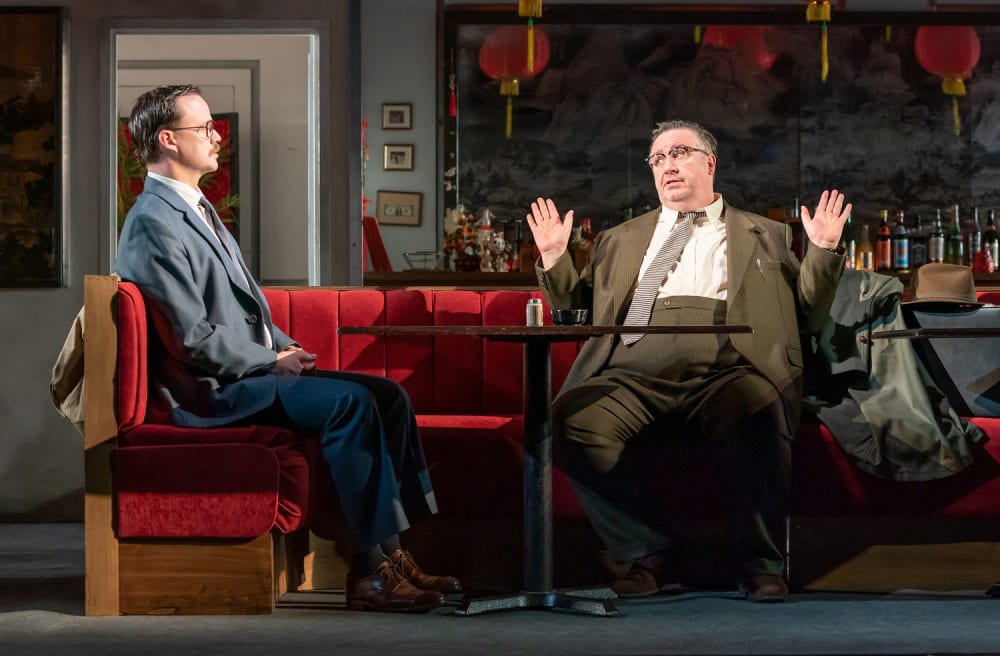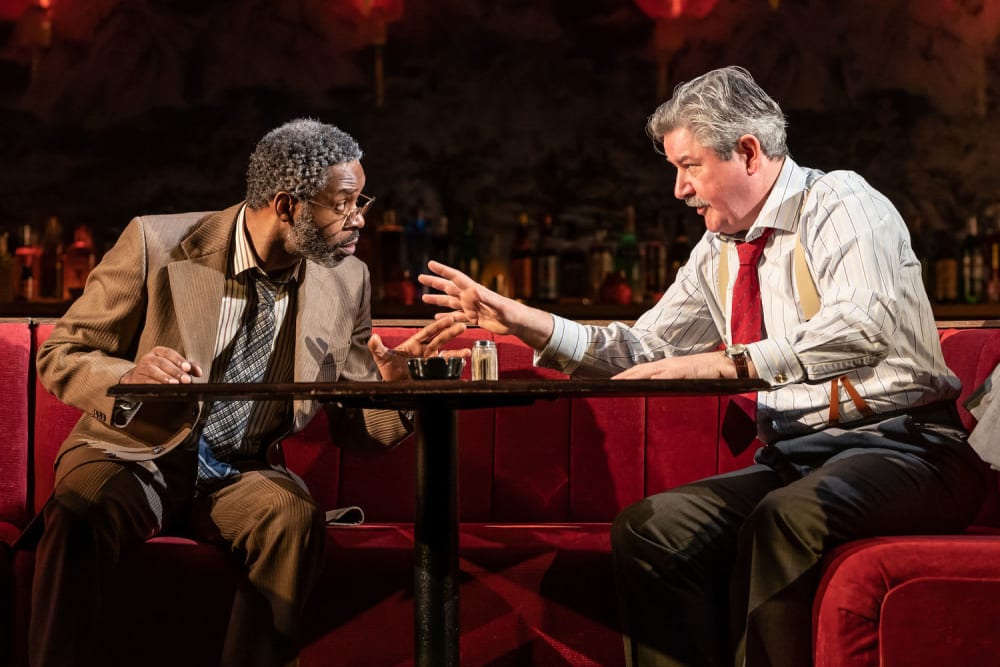 While Arthur Miller used the American salesman to show the devastating effect that the fiction of the American Dream can have on the home and family, Mamet takes us into the office to show the testosterone-fuelled, competitive, backstabbing world of a US real estate office in the 1980s, a racist, sexist and bullying atmosphere that would now be given the fashionable label 'toxic'.
Mark Benton is Shelly Levene, Mamet's Willy Loman, previously a hot salesman (or so he tells everyone) who is now down on his luck, which he blames on the 'leads' he is being given—i.e. the contact details of people to whom he has to try to sell property. The 'premium leads', for which the company has paid a lot of money, are kept from all but the top salesmen by abused office manager John Williamson (Scott Sparrow), but Levene can't get on the board, unlike top salesman Ricky Roma (Nigel Harman), who is top of the leader board and on for winning a Cadillac, the prize offered by the company to the one with the highest sales.
The play is oddly proportioned with the first and shortest act consisting of three duologues in a Chinese restaurant. In the first, Levene tries to persuade, beg, bribe or harangue Williamson into sharing some of the premium leads with him; next, Dave Moss (Denis Conway) puts to George Aaronow (Will Johnson) the idea of robbing their own office for the premium leads and selling them to a rival company, but he is only talking, not 'talking'—or is he; then finally, Roma starts chatting to James Lingk (James Staddon) on the next table and then tries to sell him some property.
Act two is in the office (a great design by Chiara Stephenson), which has been ransacked in a robbery. Police officer Baylen (Zephryn Taitte) pulls people into the office one by one while Levene gloats over a sale he has made, Moss and Aaronow are angry at being questioned and Roma tries any trick or deception he can think of to save his last sale that should win him the Cadillac. There are no completely sympathetic characters in a culture in which customers are treated like prey and colleagues like rivals—except for some kind of bond between Roma and Levene, which is sweet—but it's hard not to feel sorry for Levene, even if he has brought on his situation himself.
Mamet's rapid-fire, fragmented dialogue is notoriously difficult to pull off, but this cast, under the tight direction of Sam Yates, largely manage to do so, although there are moments where a couple of them seem to be playing for laughs rather than for truth. Even with just the front of the stalls open and the back curtained off, a play like this is in danger of being lost in the Opera House, but, while it takes a little while to tune into the unamplified voices, once you get used to it these seasoned performers grab the attention and keep it for a fast-moving hour and three quarters (including interval).
This is a collection of fairly unlikeable characters who treat one another and their customers despicably in their relentless, single-minded pursuit of money, while the person trying to bring some order and regulation to the system is abused for getting in the way, so overall it is a pretty accurate portrayal of the ideals of free market capitalism. It's also very funny, even if sometimes you wonder whether you should be laughing at what was said. Typical of Mamet, it's a short, sharp shock of a play that challenges your views, possibly offends some and is certainly never 'nice', but still manages to entertain.
Reviewer: David Chadderton