Glengarry Glen Ross
David Mamet
The Lyric, Theatre Royal Plymouth
–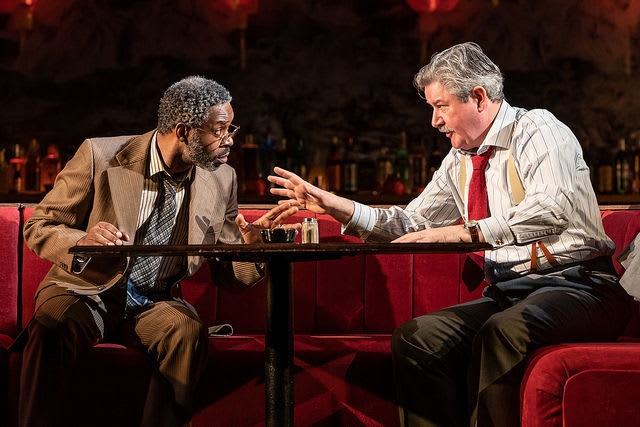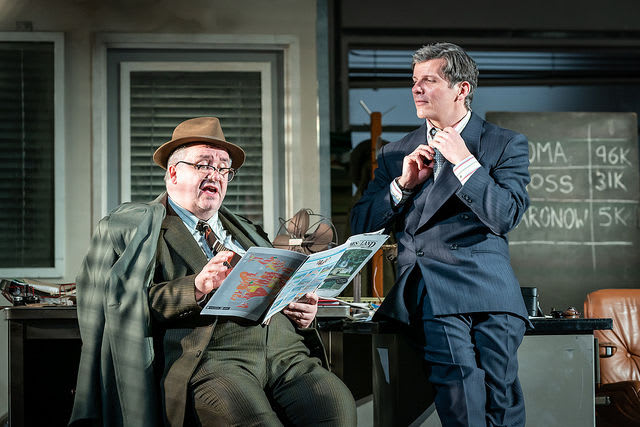 Something of a treatise on morality and the depths a dog-eat-dog patriarchy will plunge in order to survive, David Mamet's award-winning play is a quick-fire, somewhat lacking, short mis-hit delve into the American Dream.
Capturing the 1983 Olivier Award for Best Play and the 1984 Pulitzer Prize, Glengarry Glen Ross is of its time: pre-technology but post the fertile 1960s and falls short despite the banter, the pathos and the comedic moments.
Six desperate men duck and dive, play on the aspirations and vanities of unsuspecting 'leads' to clamber over one or another to the top of the board: a ghastly ego-driven competition devised by the manipulative unseen backers which rewards the best salesman with a Cadillac... while the worst two exit left.
As the vultures circle and the best leads are held to hostage by despised but all-powerful and corrupt office manager Williamson (Scott Sparrow), so the patter and gamesmanship give way to dishonesty and plots.
Nigel Harman (EastEnders) oozes the smooze as top salesman Roma, slick and confident as he bamboozles his targets with clever patter and slips through their grasp as reality hits home. The Cadillac is in his sights and nothing—truth, devastation or compassion—is going to come between him and the leather-bound steering wheel.
His bumbling mentor Levene is past it and scared. The wealth and fame once his is now but a memory and he is desperate—to the point of bribery and more—to clinch his place in the safe zone. Early Doors's Mark Benton makes a good fist of the has-been—frantically trying to cut a deal, capture valuable leads, willing to give anything to anyone who might help him keep his daughter at school and delighting in his return to eloquence and studied technique in closing the deal but he struggles at times with Mamet's trademark truncated sentences.
Scene-setting exchanges in a stereotypical Chinese restaurant cram much into a 35-minute first half: Levene will do anything to leapfrog his competitors while Wiliamson toys with his palpable fear; Moss (Denis Conway) and Aaronow (Emmerdale's Wil Johnson) 'talk' of heists and semantics while Roma seduces naïve Lingk (RSC stalwart James Staddon) into signing away his savings.
The confines of a tired and trashed office with Officer Baylen (Zephryn Taitte) circling ever closer to the truth of whodunnit plays out the second slightly longer second act as the price tag of capitalism, the integrity of battalions of real-estate salesmen and the very essence of the American Dream is dismantled—and, laid bare, it is not a pretty sight.
Worthy but misses the mark.
Reviewer: Karen Bussell