Glengarry Glen Ross
David Mamet
Theatre Royal Bath
–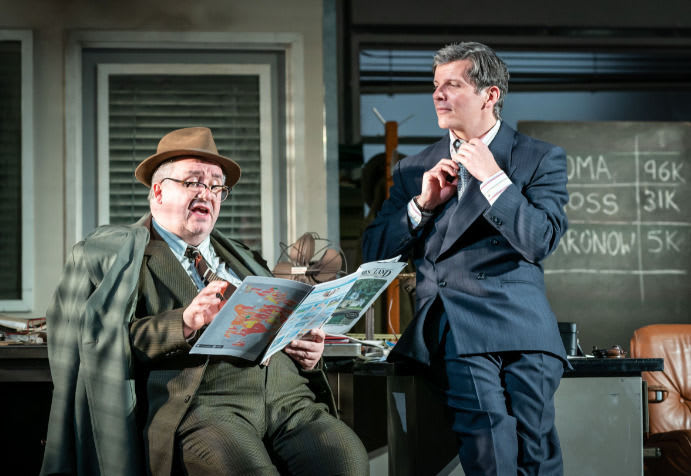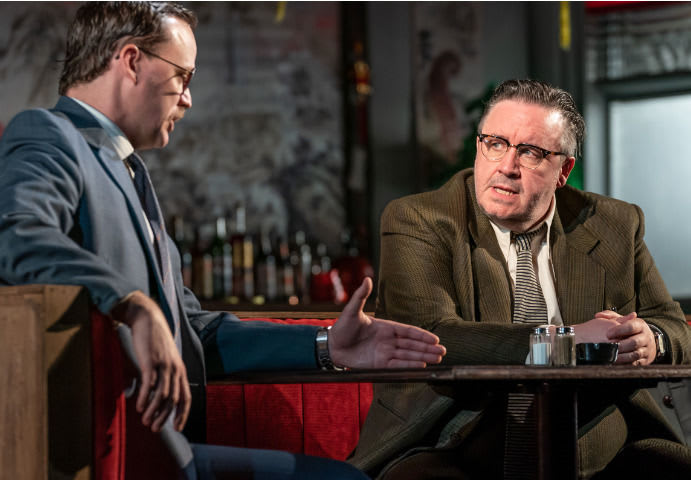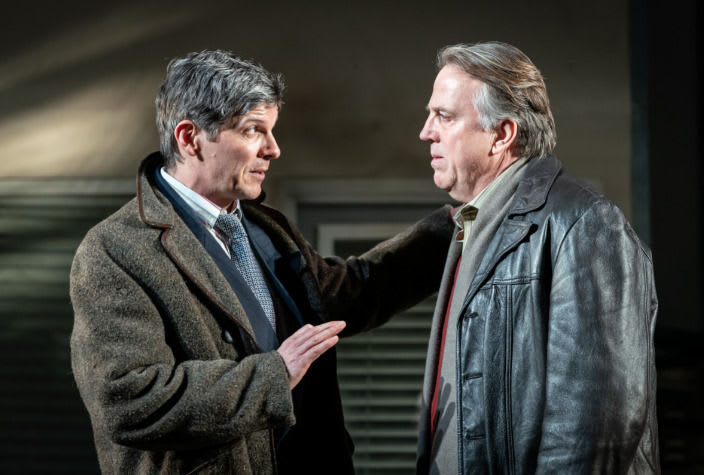 David Mamet's lacerating anatomy of a team of 1980s Chicago salesmen dates from the "greed is good" era of unbridled capitalism. This first major revival in over a decade, directed by Sam Yates and transferring to tour with a new cast after playing the West End, should really have the grace to be an anachronism in the 21st century. Yet it hasn't; aside from the lack of cell phones and laptops and the copious amounts of files and papers, this is no period piece. Perhaps we need look no further than the testosterone-fuelled negotiating tactics of the current US President to understand why.
Act I consists of three vignettes in an otherwise deserted Chinese restaurant, a prologue to the office-based decimation of the main event. Here Shelley 'The Machine' Levene (Mark Benton), former demon salesman on a downward trajectory, attempts to procure premium leads from po-faced office administrator John (Scott Sparrow) so he can close more deals on the company's real estate parcels in Glengarry and Glen Ross. Cynical Dave (Denis Conway) tries to persuade fellow old timer George (Wil Johnson) to break into the office and steal some files while smooth-talking star performer Ricky Roma (Nigel Harman) entices a vulnerable punter to buy into his spinning web of aspiration.
It's a sequence that doesn't quite soar. The quickfire staccato of Mamet's much-lauded words comes across as shouty rather than poetic, the scenes feel static and there's an overall impression of desperation but not much else. Much stronger is the second act set in the company's office after a break-in. Despite the devastation in Chiara Stephenson's authentically detailed set, the salesmen are driven by self-interest; what paperwork is missing, and will it affect the leader board and their chance to win a Cadillac?
Benton and Harman bounce off each other effectively and there's a welcome injection of camaraderie as Shelley seems to have rediscovered his touch, recalling his heyday when he taught Ricky everything he knew. For a few moments, Benton turns the veteran into an endearing family man slogging at the coal-face to pay his daughter's medical bills. Harman's Ricky is expansive and fulsome in his praise for his mentor, but pivots into ruthlessness as soon as his stooge from the previous day arrives. As Shelley joins Ricky in the hustle, he exposes his own amorality along the way; there's no level these men won't sink to in pursuit of closing the deal.
Conway delivers the most nuanced performance, well able to handle Mamet's invective as the embittered Dave, and Johnson's George is convincingly hapless. But the salesmen's greatest contempt is reserved for the pen-pushing John who never has to leave his desk and scrap for a living in the seething feral underworld of sales; as Ricky's deceit is undone, he skewers John with a foul-mouthed tirade.
Though fast-paced throughout, this revival doesn't always fire on all cylinders. Yates's direction brings only glimpses of the fractured characters in its all-male cast rather than a full view and so misses some of Mamet's subtleties and power. But the continued relevance of Glengarry Glen Ross is never in doubt and this production succeeds in encompassing a masculinity that is toxic to a contemporary lens. Like flies hurling themselves against a sealed window, these men are hollowed out; trapped and exhausted by their own virility, with little hope of escape.
Reviewer: Claire Hayes