Gloriana
Benjamin Britten, libretto by William Plomer
The Royal Opera
Royal Opera House, Covent Garden
–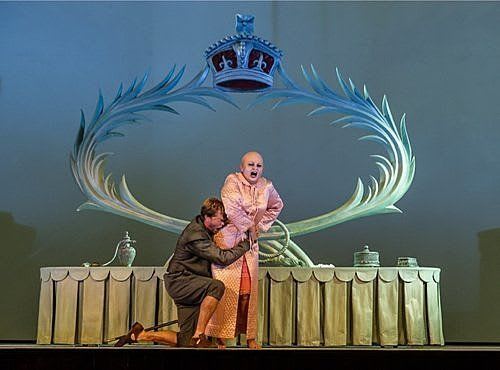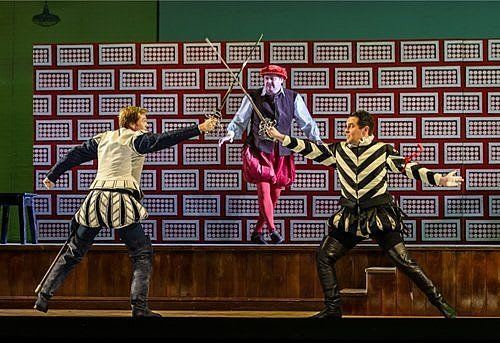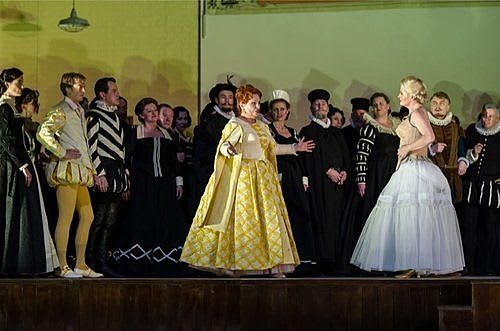 At the beginning of Richard Jones's production of Benjamin Britten's Gloriana at the Royal Opera House, a newly-crowned Queen Elizabeth II is greeted by dignatories and escorted to her seat for a celebratory pageant.
There's something slightly sycophantic about the whole undertaking (as there is with the official commissions of poet laureates). What you can rely on Jones to do, though, is subtly undercut the less appealing aspects of any work (he did it brilliantly with his production for Welsh National Opera of the troubling Mastersingers of Nuremberg). Here he cleverly steers between blatant subversion and acquiescent worship by framing the opera as a play within a play and in the process, ironically, allows the work to speak for itself.
Had he not shown us, at every step of the way, the mechanics of a 1953 stage production, he would probably have directed the performers very differently. As it is, the story they tell is a fairly traditional rendering of the conflict arising from Elizabeth I's infatuation with the rebellious Earl of Essex.
So, we see the director, DSM / prompter and a St John's Ambulance man in the wings throughout and there's plenty of scene changing, backstage detail and even singers taking a breather between scenes. On film, this is less obtrusive than I remember it being on stage and while it was very exciting live, it somehow comes across even better in the streamed version.
The production was mounted in 2013, on both the 100th anniversary of Britten's birth and the 60th of the coronation and original production. The opera has had a checkered history, rejected by many at its première (which was also at the Royal Opera House) and rarely revived since 1953. Phyllida Lloyd's production for Opera North was one of the most successful revivals and in 2000 was captured on film, where she did something similar to Jones by showing extensive backstage scenes.
What is almost miraculous about all of Richard Jones's productions is his ability to involve every person on stage to the utmost, something that you rarely see in the opera house. It's as though he's worked individually with every chorus member, as well as principal, and they all know why they are there and what they have to do. It makes for an incredibly tight and effective ensemble, all the more impressive as it's still evident in close-up.
Jones does over-egg things sometimes and, with all the surrounding paraphernalia in this production, he could be accused of it here but the distancing effect really works for me, drawing attention away from the opera's weaker points.
It is excellent musically as well as dramatically. English National Opera's erstwhile music director Paul Daniel conducts a riveting account of Britten's rich and exciting score (as he did for Opera North) and the principal roles are well taken by Susan Bullock as the queen and Toby Spence as Essex. The vocal writing contains a hidden danger of shrillness and Bullock doesn't completely avoid the traps but it's a committed and for the most part well-acted and sung portrayal of the ageing monarch.
Toby Spence was recovering from serious illness at the time but was in splendid voice, his ravishing lute serenades particularly noteworthy. There's luxury casting in the smaller roles of Penelope Rich and Lady Essex from Kate Royal and Patricia Bardon. Among the strong supporting cast is Mark Stone as Mountjoy, Brindley Sherratt the Blind Ballad-Singer and Clive Bayley as Sir Walter Raleigh, all excellent.
Ultz's sets and costumes are dazzling and there are lively masque and dance sequences that really lift things from the more intense intimate moments. Above all, Britten's score, combining Tudor sounds with his own distinctive orchestrations, is a wonder to hear. It's high time the opera made it back into the standard repertoire and hopefully we won't have to wait for another major anniversary to see it again.
The video is available via the Royal Opera's web site until 24 May and is also available for free on Youtube.
Reviewer: Simon Thomas