Glory Dazed
Cat Jones
Second Shot Productions
Soho Theatre
–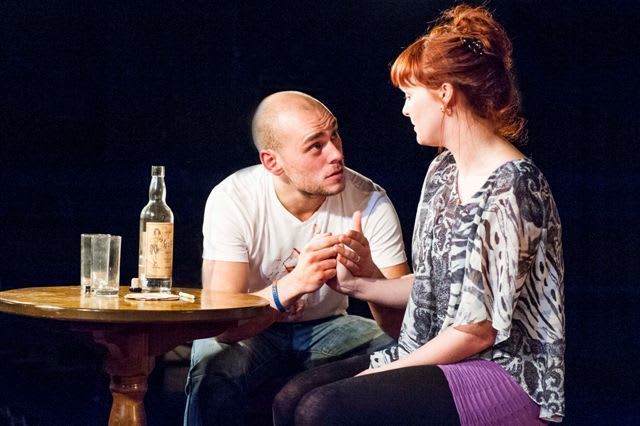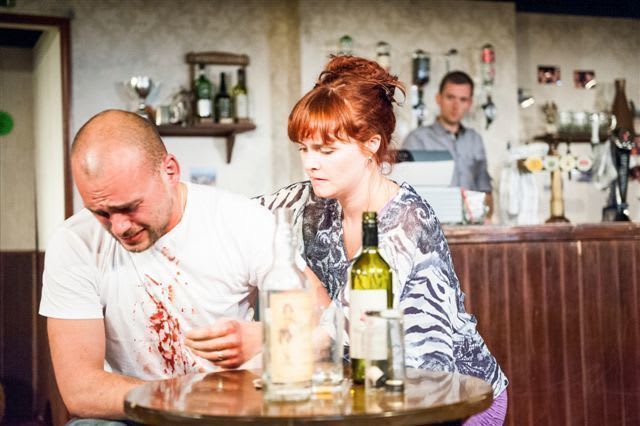 After gaining plaudits on last year's Edinburgh Fringe and at the Adelaide Festival, this gripping play is now back in Britain in Soho's top floor studio. Its study of a traumatised soldier back from Afghanistan is frighteningly real and relevant.
While missing limbs and physical injury mark men as heroes, the psychological damage that such warfare does earns no medals. Although its effects may be increasingly acknowledged its impact can be far reaching.
Cat Jones's compact play, which packs an enormous amount into its brief span, draws on interviews and workshops she conducted with ex-servicemen serving sentences in Doncaster prisons, part of the work which she and producer Fliss Buckles conduct as part of their work in prisons with their company Second Shot.
It is set in a Doncaster pub after closing time. Publican Simon (Adam Foster), his partner Carla (Chloe Massey) and new barmaid Leanne (Kristin Atherton) are hovering silently in the bar, hoping the man who is banging on the door will go away. It is Ray, formerly Simon's best friend and Carla's ex-husband, father of her two boys, and he's not going to give up.
When they give in to his hollering, Carla disappearing upstairs before they let him in, it is clear from his blood soaked tee-shirt that he's been in a fight and still combative, He is looking for Carla.
This is a play that mixes menace and compassion as it explores the effect of his experience in Afghanistan not only on Ray but on his family and friends. "I was daft enough to think you could come back the same man," says Carla, who fled the marriage with her children.
As Glory Dazed reveals, some of the experiences that Ray has lived through, the extreme behaviour the tension and fear of conflict can spark, we also see a glimpse of the man that he once was before he turned into this psychopathic mess. Samuel Edward-Cook is amazing as Ray; even at touching distance he is totally convincing, intimidating and violent one moment than suddenly an object for compassion, driven by a rage and a fear that never leaves him.
This is a man who doesn't know how to handle his own horrors who confesses, "I don't know what I lost out there, but I don't think they can give it me back." He knows enough about himself that his parting words to the young barmaid insist that she warn her brother against signing on.
Cat Jones gives gripping dramatic form to what those ex-army prisoners needed to say that is a salutary reminder of the victims on both sides in the war zone and back at home, and this cast make you feel it could not be better played. Remarkable theatre.
Reviewer: Howard Loxton