Glory On Earth
Linda McLean
Lyceum Theatre Company
Lyceum, Edinburgh
–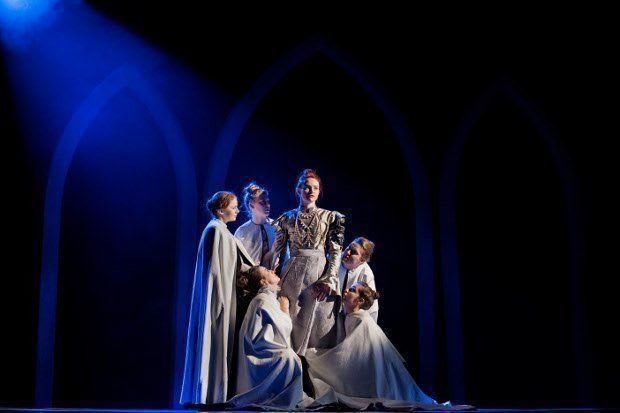 In sheer numbers of fictional portrayals, stage or screen, no other Scottish monarch comes close to Mary Queen of Scots. However unlike other dramatisations perhaps McLean's new play takes us closer to the truth.
Glory on Earth focuses very precisely on the early 1560s when Mary (Rona Morison) returns from France to rule Scotland and in particular in her difficult relationship with John Knox (Jamie Sives).
It is both a play about Edinburgh with much of the action taking place in the Palace of Holyroodhouse and St Giles, but also about events that were happening across Europe. Like Liz Lochhead's Mary Queen Of Scots Got Her Head Chopped Off, there is a wry humour in drawing parallels between the past and our present situation.
Morison and Sives are excellent, showing the differences in age and temperament well between the two characters. Their sparring is directed simply, focusing on the words and building up the tension.
They are supported by a chorus of six Marys, who play not only Mary Queen of Scots' ladies-in-waiting but also her all male privy council and provide sung and instrumental musical accompaniment.
While Knox appears in church to traditional music of his day, Mary dances in Holyrood to more modern tunes, which one can be quite sure Knox would have hated too.
The play aims to give Mary more of a voice; the historical accounts of the meetings are ones recorded by Knox himself. Mary is resilient and clever, though the play never forgets how young she was at the time.
Knox though is by no means demonised; in fact the play reminds us of his valid reasons for wanting to bring Mary down after his experiences under another Catholic Queen Mary south of the border.
Glory comes in many forms in this production. Aside from the uplifting music, there are the beautiful ruffs, Mary's costumes that combine the twenty-first and sixteenth century fashions and the simple arches and vivid tapestries of the set.
It is a key battle in Scottish history, more important in many ways than Bannockburn. It is about much more than a religious conflict, it is about romantic versus the pragmatic, a battle that goes on inside all of us.
Reviewer: Seth Ewin