Go Back For Murder
Agatha Christie
The Original Agatha Christie Theatre Company
Grand Theatre, Blackpool
–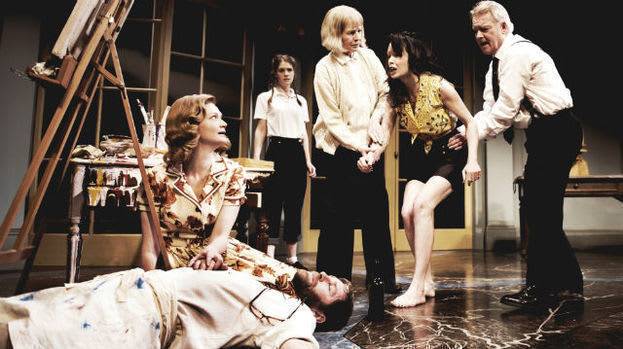 If a villain, reputedly, returns to the scene of their crime what's to stop our greatest crime writer doing the same—even if a little time travelling is involved?
That's the neat twist, and the most obvious one (in a plot with more red herrings than a Soviet trawler) in this fast-moving and lively revival of one of Agatha Christie's original stage plays.
In Go Back For Murder, she dabbles with time in the style of her contemporary J B Priestley, serving up a flashback to a 20-year-old crime scene that would be easy to achieve on screen but makes special demands in live theatre.
So director Joe Harmston throws in just a little CSI-style flash, bang, wallop to cut between eras.
He and his starry nine-strong cast handle the story with an easy elegance, while updating it all just eight years—to a 1968 denouement—works a treat.
It allows them all to blow some cobwebs off the characters, though naturally you'd feel short-changed if the plot didn't feature at least one member of the gentry and a country house climax. This is Dame Agatha after all.
Characters may still tend to exclaim rather than just talk! And in case you missed any clues in the first act—and they do fairly flash by—the second act helpfully goes over them all again, while also coaxing some humour out of convoluted relationships.
The time shift allows Sophie Ward to play both the token detective Carla Le Marchant and her mother—but then again what daughter doesn't become her mum sooner or later? Lysette Anthony can also cast off 20 years with impertinence.
Liza Goddard, Robert Duncan, Gary Mavers and Ben Nealon are the other main names in this latest production by Bill Kenwright's Official Agatha Christie Theatre Company.
As for whodunnit? Just go with your first instinct.
Reviewer: David Upton