Go Bang Your Tambourine
Philip King
Two's Company and Karl Sydow in association with Tilly Films and Neil McPherson for the Finborough Theatre
Finborough Theatre
–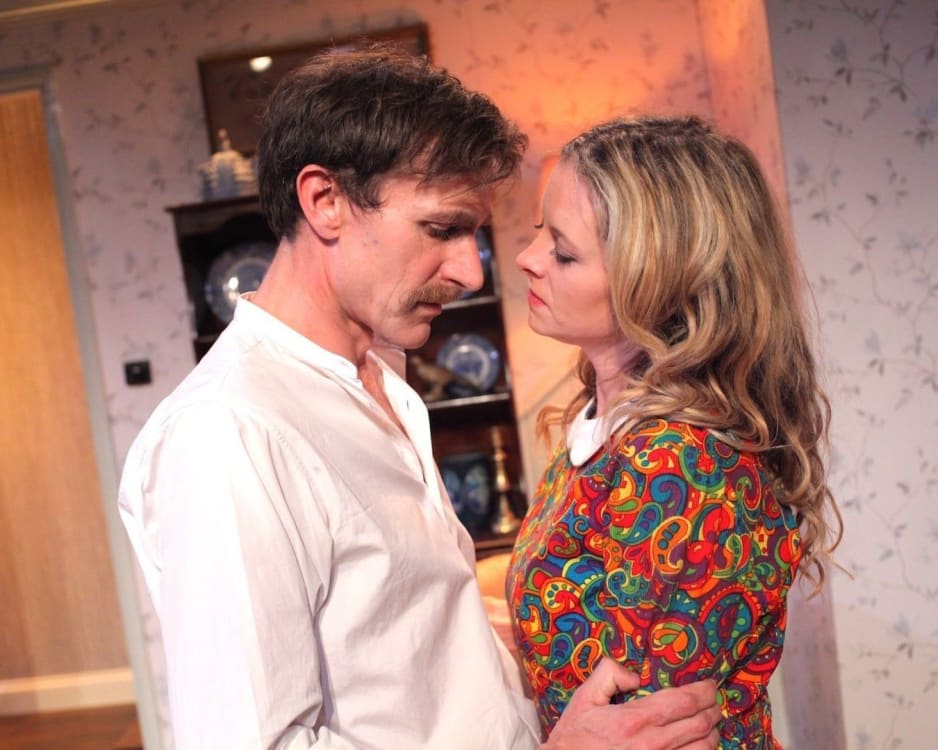 Mid-twentieth-century playwright Philip King was best known for his very successful farces but he turned his hand to serious plays too, most notably perhaps Serious Charge, which got past the Lord Chamberlain's censorship despite being about a young vicar accused of homosexual assault.
Go Bang Your Tambourine, his last play (which toured in 1970 but didn't make it as far as the West End), was probably meant to be deadly serious too, though its construction sometimes seems like farce.
Its opening is no laughing matter: a grieving son returns from the funeral of mother accompanied by the father who walked out on them four years before when he was 15. It is an uneasy relationship to say the least. Is the father there out of a sense of duty towards the boy or is he looking for personal gain?
The lad is in Salvation Army uniform, his mother was a very active member and his father claims it was her increasing religiosity that wrecked their marriage.
What is going to happen to young David? Who is going to look after him? A kindly elderly Salvationist, Major Webber, turns up also concerned about him; she even offers a home in her house, but David wants to stay in the little terraced house he has grown up in. He's looked after his mother through months of illness and sees no problems in coping on his own. He's got a job in an international store earning £10 a week, not bad for a working class boy in 1970, and runs a very ordered home.
After a month alone and missing company, he advertises for a lodger and within hours a young women comes enquiring about the room who has to move out of her current place. Bess is the opposite of what he expected: female and a barmaid, not at all the teetotal, non-smoking male that would fit into a Salvationist home, but he likes her. She is a breath of fresh air in his strictly ordered life and she makes him laugh and the audience laughs with them.
While she has gone upstairs to the toilet, Major Webber comes knocking so she stays there and David nervously pretends that he's alone. Surely we are into farce territory here with the Major hearing suspicious noises and Bess likely to appear at any moment. Mia Austen's delightfully bright, warm Bess seems straight out of a comedy and Sebastian Calver (making his professional stage debut) has David quivering at the knees with nerves but Tricia Thorns's production keeps things serious.
Things turn much lighter for David with Bess as a tenant until his dad turns up again. Thomas Armstrong is a male chauvinist who thinks he's God's gift to women, violent and obnoxious, his charm pretence, though John Sackville gives him an urgent sensuality that finds some response in Bess, though at first she tries to fight off his rough advances.
There is a tense triangle when Thomas Armstrong moves in; it could become melodrama now. Though David's infatuation with Bess is innocent and his father's interest is purely lustful, they are in competition. Bess wants to protect David and keep him happy but she is also randy and cruelly compromised when the Major turns up with David at just the wrong time.
Though Tricia Thorns's production and quality performances from all the cast manage to give a unity to the conflicting elements for a modern audience, King doesn't really develop characters or ideas beyond the stereotypes, but nearly half a century ago perhaps Thomas Armstrong, the glibly lying near-rapist, would have seemed more like a critical portrait and Bess less a cliché than they do today and if writing now he might have expanded why she would sleep with a man she doesn't even like and explored more fully the way in which a Salvationist confronts the rest of us.
Despite its limitations, Go Bang Your Tambourine still provides an interesting evening (though rather a long one with its two intervals). The Finborough and Two's Company provide an opportunity to catch up on an unseen play though again it still seems very unlikely that it will make the West End.
Reviewer: Howard Loxton