God of Carnage
Yasmina Reza
Nuffield Theatre Company
Nuffield Theatre, Southampton
–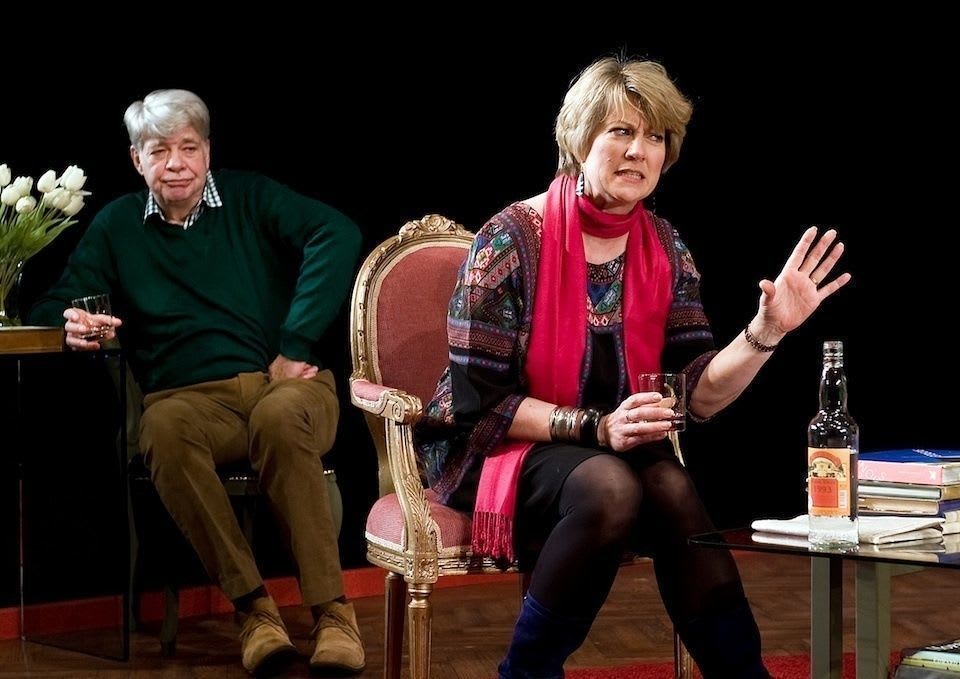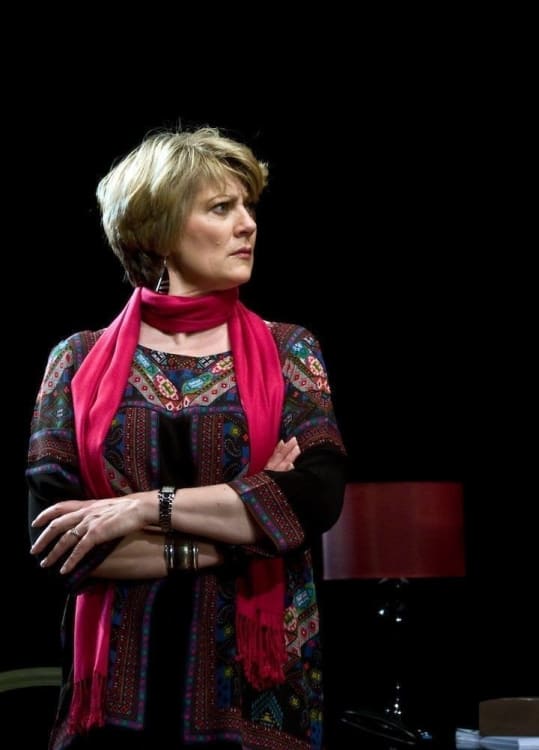 Parenting is a difficult and complex subject, so when two eleven-year-old boys have a fracas over name-calling and one hits the other with a stick causing the lost of two of his teeth, both set of parents meet up to try and reconcile the situation.
This simple premise is the substance of Yasmina Reza's fastidiously observed and sharply witty play God of Carnage, skilfully translated by Christopher Hampton.
Juliet Shillingford's impressive set thrusts into the audience converting the Nuffield's stage and auditorium into a more intimate space with parquet floor, expansive circular red rug, elegant furniture with vases filled with tulips and an imposing vast screen at the back of the stage with a projected image of a young boy that's transformed into a striking work of art.
At first relationships are polite, dignified and cordial as coffee and homemade clafoutis is served and they prepare statements of what they believed had happened.
Veronique, delightfully played by Tracey Childs, is a self-assured writer who is preparing a book about Darfur. She is passionate about human rights and Africa.
Her down to earth and downtrodden husband Michel, the splendid Matthew Kelly, is big in domestic hardware—his knowledge of toilet systems is certainly extensive. He has a fear of rodents and has 'liberated' his daughter's pet hamster Nibbles, setting it free onto the streets of Paris, much to the angst of his wife.
By contrast, James Clyde, pompously portraying Alain, epitomises the arrogance of a high-powered lawyer who is in the middle of an important pharmaceutical law case and is constantly on his mobile phone, much to the growing annoyance of everyone.
Miranda Foster as Annette is a joy to watch, stridently supporting her antagonistic son. Her strong character begins to unravel when she is physically sick over Veronique's precious Kokoschka art catalogue to the consternation of all.
Relationships between the parents and each other spectacularly break down with hilarious results, fuelled by copious amounts of Michel's special rum.
These are dysfunctional people in disastrous marriages whose anger, frustration and phoney lives are painstakingly revealed as they squabble and fight with childish hysteria. As Michel declares: "Children consume and fracture our lives—but what do we know?"
Patrick Sandford, in his last season as artistic director at the Nuffield Theatre, directs this stellar cast with aplomb in this excellent production.
Reviewer: Robin Strapp