God of Carnage
Yasmina Reza, translated by Christopher Hampton
Theatre Royal Bath Productions
Theatre Royal Bath
–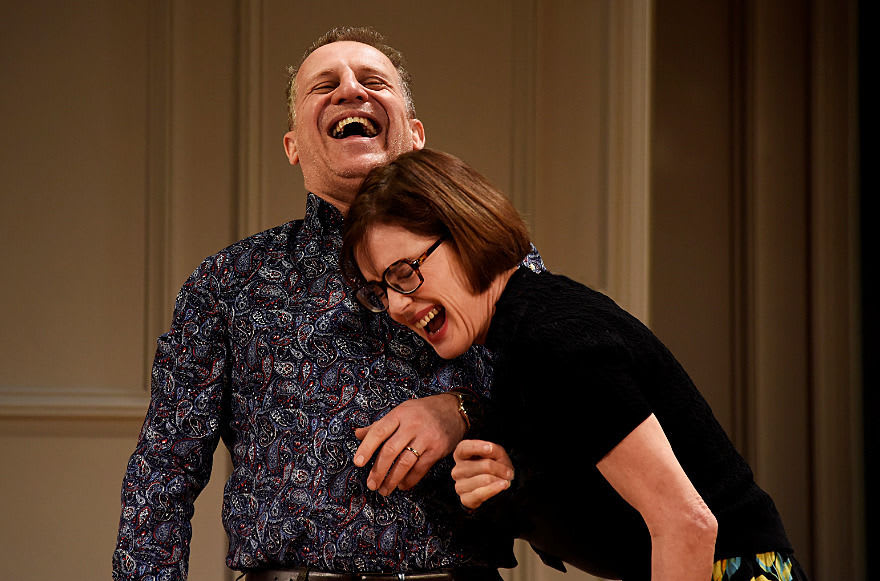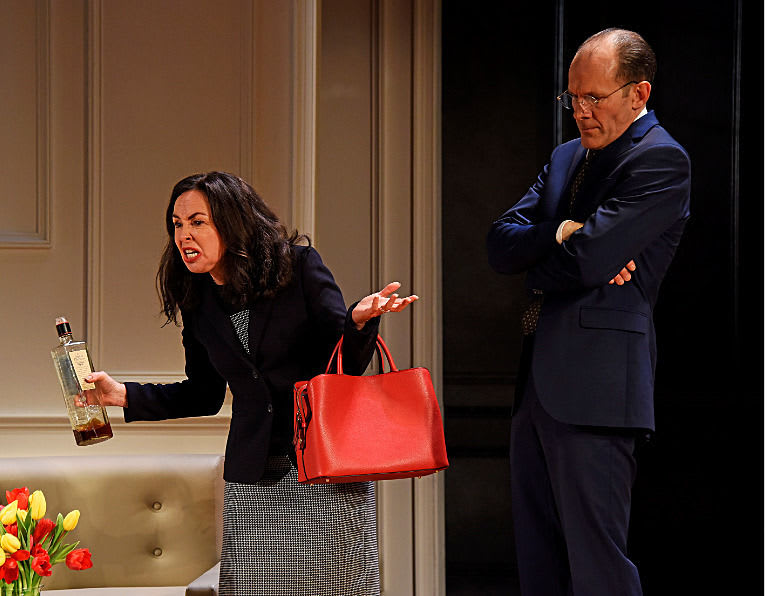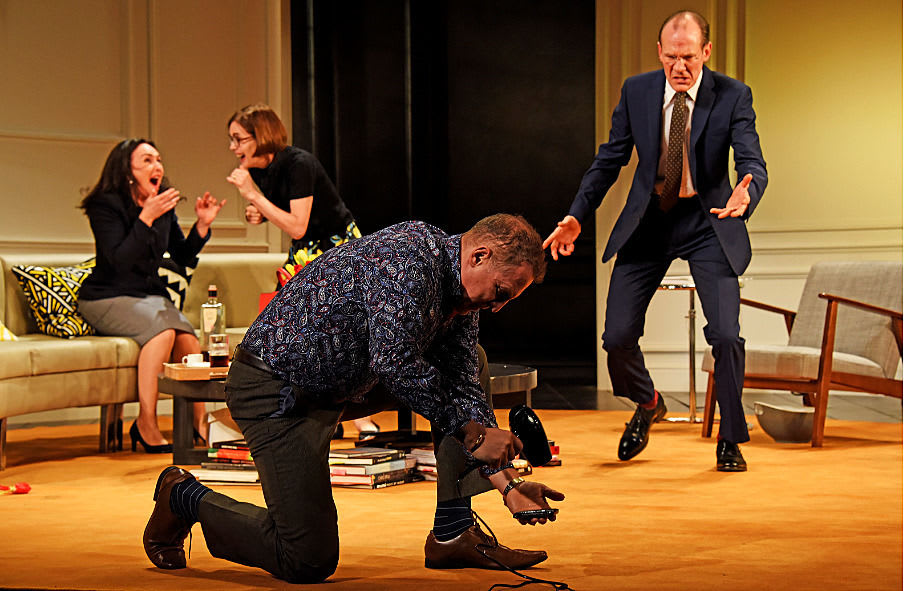 Building on the reputation for sharp social observation established with her 1994 comedy Art, Yasmina Reza strips away the veneer of middle-class pretension and politeness in God of Carnage to expose the savagery that lies beneath. First performed in 2006, the play went on to garner a clutch of awards on both sides of the Atlantic, as well as an adaptation into the 2011 film Carnage, reset in Brooklyn and directed by Roman Polanski.
Now the production that featured in Theatre Royal Bath's 2018 summer season has been revived by its director Lindsay Posner and is back prior to a West End run, with Elizabeth McGovern of Downton Abbey fame—currently with one arm in a sling due to injury—reprising her role as Veronica.
The play opens with two London-based couples convening to discuss the playground fight between their children, eleven-year-olds Freddie and Henry, which resulted in Freddie knocking out two of Henry's teeth. Henry's parents Veronica and Michael are the hosts and instigators of the meeting, while guests Annette and Alan are the parents of perpetrator Freddie.
What begins with pleasantries over coffee and clafoutis cannot of course remain that way, and tensions quickly surface, both between and within the couples. McGovern's Veronica, an American author full of earnest sensitivity and underlying waspishness whose current subject is Darfur, seems to have little in common with her hardware merchant husband Michael, played by Nigel Lindsay as an out-and-out East End geezer—so much so that you wonder how they got together in the first place.
Annette and Alan (she in wealth management, he a prickly commercial lawyer) might appear better matched but soon begin sparring over his constant taking of work-related mobile phone calls. She, it seems, is given all the responsibility on the domestic front, while he is totally absorbed in the professional. Samantha Spiro and Simon Paisley Day are both convincing in their individual characterisations, she pained and long-suffering, he soulless and callously corporate. Yet, despite the revelation of an endearingly embarrassing nickname, it's hard to imagine them ever having had enough chemistry to get hitched.
That neither couple seems to completely gel undermines the credibility of the ensuing comedy of manners. That said, as bourgeois civility begins to break down, the play's farcical elements are well delivered with laugh-out-loud moments to savour. There's a devastatingly ruinous attack of gastric upset and a rum-swigging session that finally puts paid to any lingering social niceties. Allegiances between the quartet form—the women siding together over the Neanderthal tendencies of their husbands, the men reminiscing over their time in playground gangs—and just as quickly implode over the next newly perceived slight.
As the decibel level and physical wrangling spiral, Peter McKintosh's ceiling hanging design of African spears suspended above the chic living room becomes increasingly apt. This is little short of war in a domestic setting, the parents' behaviour worse than their children's, the passive aggressive comedy pierced by an underlying tragedy of desperation.
Caught up in the primeval vitriol are themes concerning the relative importance of local and global issues, the raising of children and the ways in which we say one thing and mean another. It's a shame that, despite strong performances—particularly from McGovern—some of the subtleties of Reza's clever construction ultimately become lost in the fever-pitch of hysteria.
Reviewer: Claire Hayes