God of Chaos
Phil Porter
A Theatre Royal Production
The Drum, Theatre Royal Plymouth
–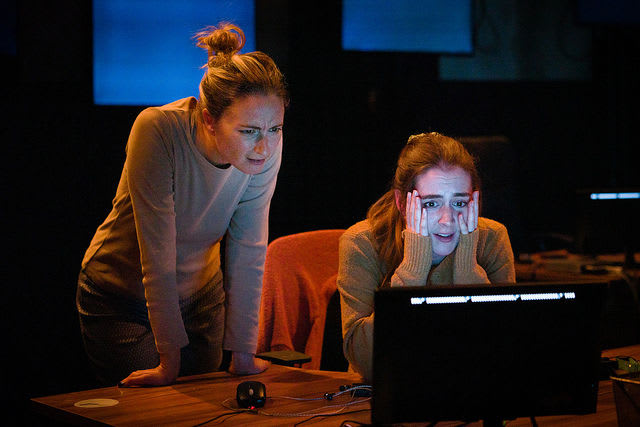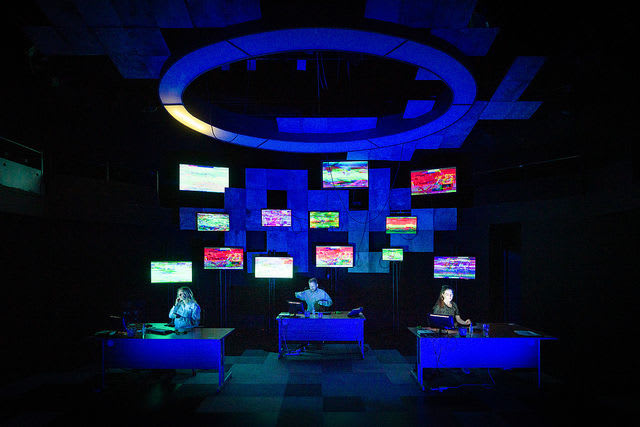 So just who decides what is and is not appropriate for us to digest on the all-encompassing, all-pervading World Wide Web? What right do they have to censor, to sanitise our social media diet and play God?
Olivier-nominated playwright Phil Porter, writer of the 2016 TRP production The Man With The Hammer, tackles these enormous questions and more in his hard-hitting, funny and disturbing piece commissioned by Theatre Royal Plymouth.
With surprising election results the world over and palpable anger and uncertainty rife, Porter happened upon a podcast about those hired as social media moderators to sift through contentious, polarised, violent, pornographic and fake news matters flagged as potentially inappropriate. And so the play was born—from the detritus of humanity and those who draw the lines which must not be crossed. (Ironically the ad for the show was banned by Facebook for 'showing excessive flesh'—presumably the recumbent topless man, a hint of a nipple in a lacy bra or a peachy bottom clad in black knickers—nothing that might not be seen on the Six O'Clock News protests Porter).
In the windowless office, desperate-for-a-date and / or a coding post, Stan (Ryan Early) and veggie eco warrior Rosa (Lizzy Watts) trudge through the soulless process while the electric flickers and wanes, applying their rules to words, video and images deciding, Big Brother-like, what the public will and will not see. If it gets all too much, there is a counselling app close at hand.
Jaded Stan is most likely to swipe right and Rosa is prone to ban Disney princesses for advocating anorexia. Everyone is on their own agenda—even 'video star' Adam (Omar Austin)—as banter and irritability keeps them sane while Grace Smart's set features a bank of screens which fizzle and scream images confusing and incessant.
Bucking the trend by actually applying for a moderator post rather than being offered it as a consolation prize, erstwhile Beccy (Laura Waldren) is on a mission. Blaming the 'Net for a family tragedy, she wants to clean up society.
Challenging the complacent duo, questions are raised, inspected and left for interpretation—is an island of floating plastic obscene? Is 'God is gay' offensive? Is it enough to delete images of torture and not report them to the police? Do violent pornographic images sate a need or encourage copycat conduct?
So many questions, so many answers. Wonderfully provocative.
Reviewer: Karen Bussell