Waiting for Godot
Samuel Beckett
Library Theatre, Manchester
(2008)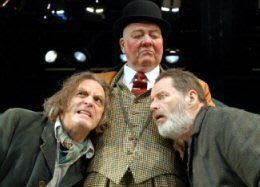 Manchester's Library Theatre has opened the year with a new production of Beckett's Waiting For Godot directed by artistic director Chris Honer and performed, on the press night, in front of a star-studded audience.
Two tramps, Vladimir and Estragon, wait around on a hillside by a tree for the mysterious Godot. They think they have been there before to wait for him, but they have no sense of time, even though the subject of time obsesses them. The only visitors they have are the snobbish Pozzo and his abused servant Lucky and a boy with a message from Mr Godot.
Although he could be obscure and offbeat, you can certainly see in this production how Beckett was influenced as much by the Marx Brothers as by Joyce, and that he would appear to be as much an influence on sitcom writers such as Galton and Simpson (Hancock, Steptoe and Son) as on Pinter and Stoppard.
Honer has assembled a superb cast for his production. George Costigan and David Fielder work superbly together as Estragon and Vladimir with a great sense of comic timing and delivery. Russell Dixon's pomposity as Pozzo could not be more extreme, but it works perfectly, and David Neilson is appropriately mute and put-upon, apart from his one lengthy and nonsensical speech, which he delivers very well. Even the young boy, played in this performance by Daniel Shaw (in some other performance he is played by Lewis Potts), is played very well and fits into the production perfectly.
Judith Croft's set design supplies the rock and the apparently dead tree required by the script, and although they look a little plastic, Beckett doesn't say they need to be realistic. The snaking ribbon of sky behind them gives a nice backdrop the the play.
There are perhaps a few places where the pace dips or the words haven't quite been made to sit naturally with a Lancashire accent, but overall the production flows along nicely and has some great comic pieces in it without overplaying it for comedy. Contrary to how some people think of Beckett, it is also very entertaining, and the Library's superb production gets the balance of the play just right.
Reviewer: David Chadderton