Waiting for Godot
Samuel Beckett
Theatre Royal Haymarket Company
Theatre Royal, Norwich, and touring
(2009)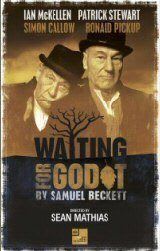 What more can be added to the mountain of speculative writing about Waiting for Godot that could possibly bring anything new to the topic? Very little. There is a wealth of literature by people who have spent years studying the text, from actors and directors to academics.
Of course I have my own thoughts, formed after first reading and being entranced by it many years ago, then re-addressed whilst studying it at university and revised again when working on the piece as an actor playing Lucky. For those who are interested and have not done so before, read the play, read the books, go online. Its history alone is fascinating - indeed it is imagining what it must have been like to see it in 1955 that is one of the most intriguing aspects of its legacy - and it remains a remarkable and unique piece of work.
And so what of this production? It is hardly a surprise that a play as notoriously difficult to sell as this should perform to houses across the country with not an empty seat in sight, when one considers the cast - Ian McKellen, Patrick Stewart, Simon Callow and Ronald Pickup - something which brings out in me all the ugliness of cynicism: this is obviously nothing more than an ego trip for two old buddies with a bit of time on their hands; someone is going to make a fortune out of this cash-cow, and worst of all, people who don't even like this play - have probably never even heard of it - will flock to the theatres, no doubt mostly Trekkies and freaks dressed as people from Middle-Earth, to see their heroes in person. What a joke!
But of course, the joke is on me. This was always going to be an immaculate production. Whether one enjoys them or not, performers with this degree of experience bring an ease to watching a play like this - for all its thorny obstacles - which makes it a suddenly very accessible experience. The relationship between Vladimir and Estragon is more touching than I have seen it before, if equally desperate, and Pozzo and Lucky well capture the violent tragedy of their mutual existence. The considerable humour in the text, so often lost in production, is also made much of.
But there is no doubting this is McKellen's show. He delivers an astonishing performance of physical and vocal magnetism which, however unintentionally, can't help but pull focus from those around him.
For a seasoned theatre goer familiar with the play, one is offered in this production a chance to see a crystal clear interpretation, which does not get too bogged down in dealing with what the play might be about, and still manages to be frightening, alarming, haunting and funny.
To see Waiting for Godot performed badly would surely be enough to put a person off seeing another play for the rest of their days, but for many of the first time theatre-goers who will see this, I imagine that the fact that nothing happens twice will be neither here nor there: one is swept along from start to finish by four mesmerising performances, allowed to laugh now and then and given the opportunity to see a remarkable play in very safe hands. As one first time Godot-goer said to me a couple of days after seeing it, "I kept thinking all the way along, what is going on here, what is this about? But I couldn't take my eyes off it for a moment. And I'm still thinking about it, and I still don't know!"
So it doesn't matter why people go. It doesn't even matter that the curtain call is delivered as a slightly nauseating music-hall song and dance routine. It matters that thousands of people right across the country who might otherwise never have seen it, will sit through Beckett's masterpiece and not be made to feel stupid or ostracised - or far worse, bored - and for that alone I applaud it. In the unlikely event that a ticket becomes available, take it.
Touring to Edinburgh King's Theatre (13th - 18th April), Newcastle Theatre Royal (20th - 25th April). Opens in London at the Theatre Royal, Haymarket, on 30th April
Peter Lathan reviewed this production in Newcastle and Philip Fisher reviewed the transfer to the Theatre Royal, Haymarket
Reviewer: Henry Layte