Waiting for Godot
Samuel Beckett
Old Bomb Theatre Company
The Studio, Theatre Royal, York
(2008)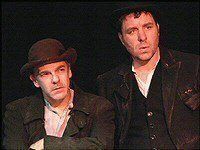 It was only when I realised that I had never actually seen Godot on stage that I decided to schlep to York for an afternoon performance. I've read it three or four times, seen bits on TV, heard it on radio. And I know that the famous 'nothing happens in the first act, then nothing happens in the second after' is not an accurate description. All the same, it's a difficult play to direct, stage, act, so I was not exactly enthusiastic. Nevertheless, I decided that should the production prove naff, I could dose through the first act and then go shopping.
No need. The shopping must wait. This is an excellent production, bubbling with humour, punctuated with pathos.
Pauls Osborne and Stonehouse make a suitably quirky Gogo and Didi. Well separated in character, style, and physical presence, they hold the stage and never once did my attention waver. Alan Booty's Pozzo is more than acceptable. And Tim Holman's Lucky is a master class in Beckettian acceptance of the vagaries of life. His performance of the great 'for reasons unknown' monologue was faultless, beautiful and deeply saddening. And The Boy (either Matt Patison or William Gibbon) was spot on in his woolly knee socks and air of youthful numb confusion.
At first I was taken aback by the very insistence of Osborne and Stonehouse's Irish accents, but that passed. And I was slightly worried about the lighting which, with the well brimmed headwear, had the actors losing their light too often. But again, as the wonderful words took hold the lighting was, as it should be, forgotten. And how wonderful the words are, simple, clean, sometimes breath-takingly apt and, well, just right. Production apart, this is a magnificent play which defies analysis. It just is.
And Cecily Boys' does it credit, her direction is impeccable: every moment is animated and intelligently orchestrated.
A shame that this production is now being put to bed. It could run and run. Thank goodness I went - my best theatrical treat so far in 2008.
Reviewer: Ray Brown