Godspell
Conceived By John-Michael Tebelak; Music & Lyrics by Stephen Schwartz
Sunderland Empire & Touring
(2007)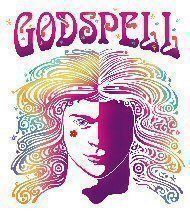 A long time before Wicked there was Godspell, a 70s musical that has through the years featured such stars as David Essex, Sue Pollard, Davy Jones, Marti Webb, Jeremy Irons, John Barrowman and Darren Day to name but a few. (Ok, so you will have to forgive me for Darren Day, not really a star but he was in it once.) Paddy Wilson has brought back Godspell for a run at spreading the word of the Gospel. So is the word worth spreading? Or is it like Darren Day is back on the scene?
So what is Godspell? Plain and simple it is The Gospel According to St Matthew, told through the songs of Stephen Schwartz. A much better way in my mind to learn the Gospel than sitting in a classroom being talked at by an old grey haired bloke with dandruff.
It's hard for me to contain how much I adore the work of Schwartz, so I will just say that while not every song is a classic, Godspell has enough great numbers to more than keep you entertained.
Paul Kerryson's direction works so well, having great confidence in comedy and giving the cast a little bit of freedom in their roles. He keeps the movement in the musical numbers simple, making them feel raw and spontaneous. This blends perfectly with the style of Who's Line Is It Anyway storytelling.
Godspell is a wonderful ensemble piece of musical theatre and has a very impressive cast. There is not one weak link in this chain, with every single member confident in voice and movement. However there is a stand out performance, which comes from Ryan (soon to be Frankie Valli) Molloy. There shouldn't be a musical that doesn't have role for Molloy: he has all the tools to make him the true star of musical theatre. The greatest tool Molloy has is that he is not like the musical theatre clones that are being shipped out of theatre schools as we speak. He has great presence, sex appeal and a unique voice. Like any great performance, though, you must have great support and he gets the best from cast members like Lucy Kerans-Hunt, who just oozes sexy and from show headliner and Grease Is The Word finalist Tom Bradley.
This is a wonderful show and I'm glad it's back out there for people to see. Great songs like Prepare Ye, Turn Back O Man and Day By Day are back to please your ears and stick with you. Godspell and its superb cast have cast their spell, so go and let them put a spell on you!
Reviewer: Wayne Miller