Going Through
Estelle Savasta, translated by Kirsten Hazel Smith
Bush Theatre and Institut Français du Royaume Uni
Bush Theatre
–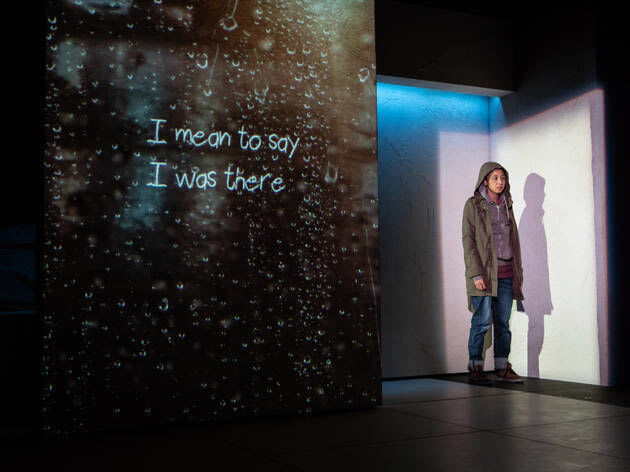 Lovingly raised by the gentle Youmna, in a little house, in a nondescript war-torn land, Nour is unwittingly being prepared to make the ultimate journey into adulthood, to forge a new life for herself in the UK. Going Through is at once an inventively staged political commentary on the female experience of the migrant crisis and a moving personal tale about the strength of women and a mother's love.
Narrated by Nour in three disparate parts, this is a journey which the audience will go through with her and indeed she address us directly as her silent companion throughout the play, letting us into her every thought as she experiences it. Her other silent companion is deaf Youmna, with whom she communicates by signing—a language belonging only to them. We are told that Youmna is not her mother, though Nour would like her to be, and that they are both the nour, meaning 'light' in Arabic, of each other's lives.
Charmaine Wombwell as Nour deftly carries the narrative, capturing all her childhood innocent and courage, turning to independence as a woman who has "learnt to choose for herself". Although silent, Nadia Nadarajah's performance as Youmna is not to be underestimated; the energy and expression in her movements is deeply engaging. Together, the two actors build a strong on-stage relationship which is at times playfully comic and at others heartbreakingly moving.
The play is a multilingual experience, told through a combination of spoken English, sign language and text projected on to moving screens, which are cleverly adapted to reflect the environment around Nour as she moves through the story. The text itself is translated from Estelle Savasta's French play, Traversée; Kirsten Hazel Smith's words have a poetry and simplicity in their description of the world through Nour's eyes. Language is highlighted as something open to interpretation, that can be a bonding tool when used effectively and a source of oppression when communication fails. Nour's words fall on Youmna's deaf ears, whilst Youmna seems to only communicate to the outside world through Nour. When Nour leaves home, Youmna not only becomes voiceless but, in Nour's head, she is "statufied".
When the time comes for Nour to make her perilous journey disguised as a boy via taxis, forests and ferries, she transgresses both geographical and gender boundaries as she steps onto the threshold between adolescence and adulthood. The action unfolds itself through sound and visual projections, with other characters appearing only through Nour's narration. Like Nour, the audience is left to piece together information in a strange, fragmented world. On arrival in the UK, this country is revealed to be just as confusing and hostile to asylum seekers struggling to process their past and evade deportation in "a lottery" where they "don't get to pick the numbers".
Nour's experience typifies that of asylum seekers forced to abandon their families and identities in search of a safer future. Even at the end of their journey, they continue to be "traversés"—caught between two cultures and identities. Nour, however, is one of the lucky ones. Ironically, it's as she moves into womanhood and almost accidentally rediscovers her childhood language that she is able to fully understand and accept her past in order to move into the present.
Reviewer: Hollie Goodall